Epson SureColor F-Series
Direct-to-Garment Printers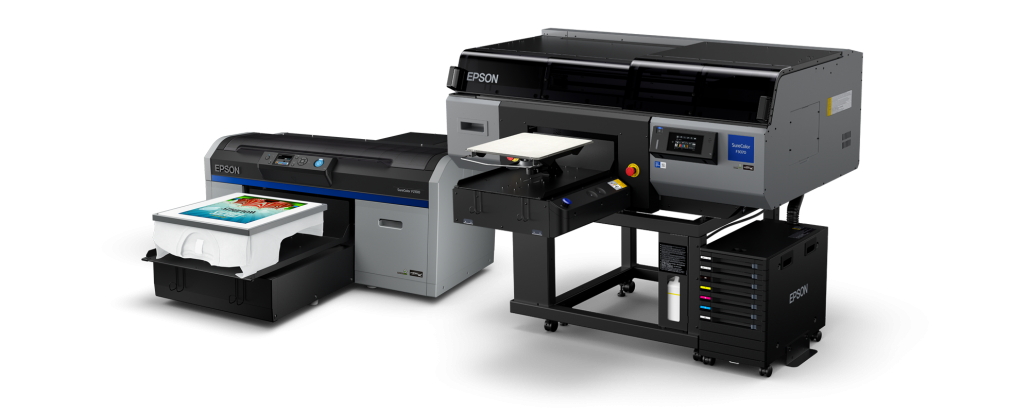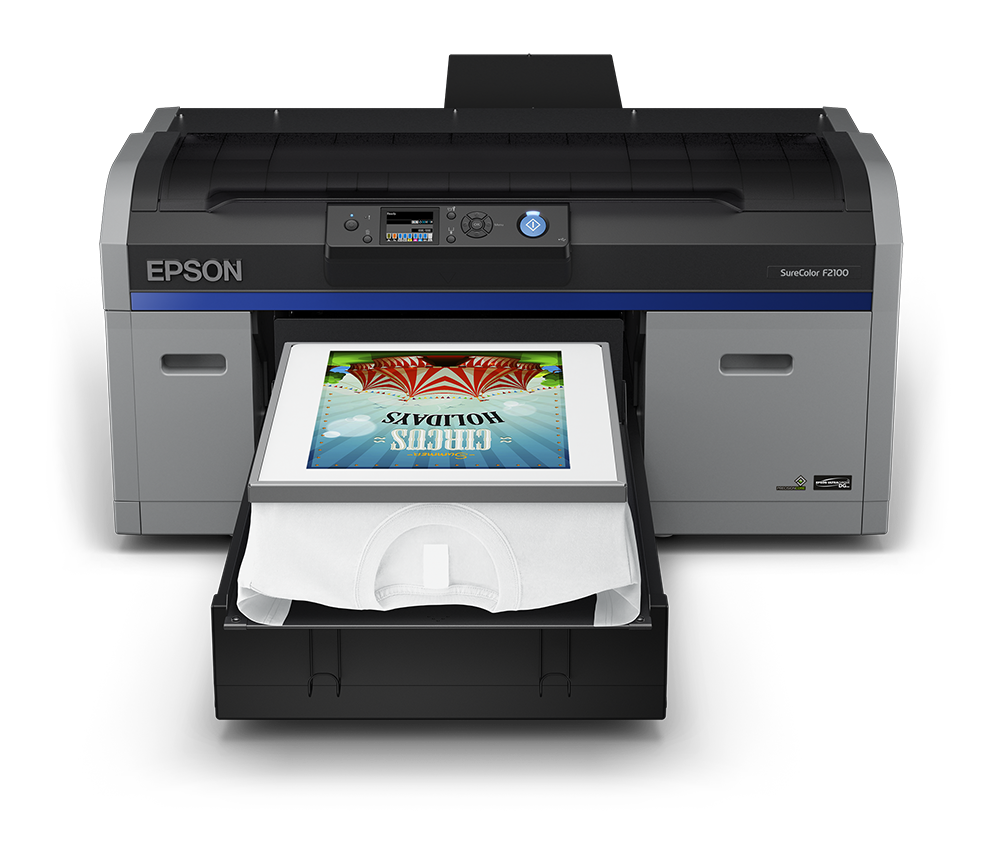 High-Performance, Reliable Direct-to-Garment Printing.
Designed exclusively for direct-to-garment printing, the SureColor F2100 offers an entirely purpose-built system for high-quality prints at production speeds. Developed using the latest advancements in performance imaging, including our Epson® PrecisionCore® TFP® printhead and Epson UltraChrome® DG garment ink technology, the SureColor F2100 achieves up to twice the speeds of our previous generation of DTG printers1. Additional improvements — like a quick-load platen and robust Epson Garment Creator Software — take productivity even further, while the all-new integrated self-cleaning system means less downtime.
Product Features
PrecisionCore® TFP® Printhead Commercial-grade printhead technology designed specifically for DTG imaging

Simple Front Control Panel Full Color LCD with Image Preview

Robust Garment Platen Medium size 14″ x 16″ platen included




Extra Small 7″ x 8″




Small 10″ x 12″




Medium Grooved 14″ x 16″




Large 16″ x 20″




Sleeve 4″ x 4″

USB Memory Port Perfect for PC-Free Printing Workflows

Ethernet & USB

Cartridge Locations 600 mL size ink cartridges x 6




700 mL size cleaning cartridge x 1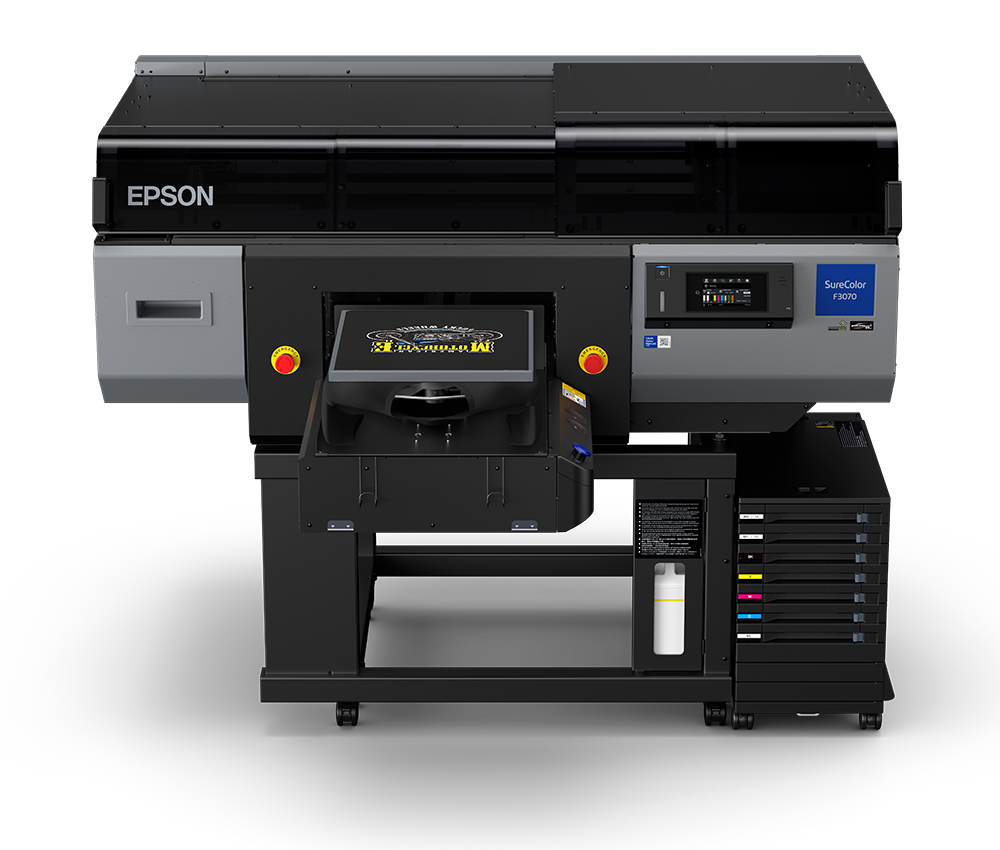 The Future of Production Garment Printing.
Bring a new level of productivity and efficiency to your printing business with the all-new SureColor F3070 industrial direct-to-garment printer. The first of its kind to meet the demanding needs of high-production print shops, the F3070 was built from the ground up to deliver professional-quality, one-pass prints at industrial-level speeds. Featuring automatic garment thickness adjustment, easy user maintenance features and a new dual 2.6″ PrecisionCore® printhead, this innovative direct-to-garment printer maximizes productivity and reduces downtime for fast, cost-effective print production. Coupled with the first bulk ink system integrated into an Epson® direct-to-garment printer, the F3070 can produce a full-size t-shirt in moments, allowing print shops to print hundreds of shirts per day, all at a remarkably low cost of ownership.
Product Features
Printing Technology Dual advanced PrecisionCore microTFP 10-channel, drop-on-demand, inkjet printhead with ink-repelling coating technology

Ink Type UltraChrome DG; 5-color

Production Edition Ink Configuration C, M, Y, K, W

Nozzle Configuration 8,000 White ink print nozzles; 6,400 color ink print nozzles

Droplet Technology Variable Droplet Technology

Maximum Resolution 1200 x 1200 dpi

Printer Language/Drivers Epson ESC/P® raster

Ink Supply Pack Fill Volume 1,500 ml each pack

Ink Pack Shelf Life 2 years from printed production date




Printer is designed for use with Epson ink packs only, not third-party ink systems*.

Maximum Pallet Size Large: 16″ x 20″

Included Pallet Size Medium: 14″ x 16″

Maximum Garment Thickness Up to 29.5 mm

Printer Interfaces Hi-Speed USB 3.0 (1 port), 1000Base-T Ethernet (1 port)

Operating Systems Supported Windows® 10 and 8.1, macOS 10.12 (Sierra) or later

Garment Creator Software Minimum PC Requirements Multicore processor, 2GB RAM, 32GB Free Storage

Recommended PC Specifications Intel Core i7 8th generation processor, 16GB RAM, 32GB free SSD storage

Weight and Dimensions (W x D x H) 68″ x 72″ x 53″ (1,712 mm x 1,809 mm x 1,336 mm)

Weight 730 lb (330 kg)

Acoustic Noise Level Less than 59 dB(A) according to ISO 7779

Temperature Operating 59˚ to 95˚F (15˚ to 35˚C), Operating (recommended): 59˚ to 77˚F (15˚ to 25˚C)

Relative Humidity Operating 20 – 80% (no condensation), Operating (recommended): 40 – 60% (no condensation)

Electrical Requirements Printer Requires two outlets

Voltage AC 100 – 120 V; 200 – 240 V

Frequency 50/60 Hz

Current 8.2 A at 100 – 120 V, 4.1 A at 200 – 240 V

Power Consumption Printing Approx. 168 W or less, Sleep Mode: Approx 20 W, Power Off: Approx 1.0 W