Epson SureColor F2100
Direct to Garment Printer
$15,995
MSRP $18,995 (Save $3,000)
Please Fill Out the Form For More Info
The Best Just Got Better.
Building on the success of the SureColor F2000, the #1 selling direct-to-garment printer, the new Epson SureColor F2100 raises the bar with increased reliability, greater productivity, and enhanced print quality.
As the winner of the 2021 Premier Print Best of Category for Digital Printing (Direct-to-Garment) Award (issued to All American Print Supply Co), we strive to be the best source of any of your DTG related questions or inquiries. Experience for yourself the quality help you expect.
Epson SureColor F2100 Features

Printer Reliability & Maintenance

Warranty & Service Programs

Product Value Proposition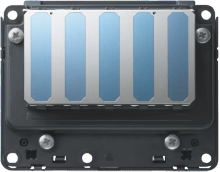 Print resolutions up to 1,440 x 720 dpi for color; and up to 1,440 x 1,440 for white

Precise dot control for outstanding clarity and sharpness for garment imaging
Up to 720 nozzles per inch dedicated to color inks; with 1,440 nozzles per inch dedicated to white inks for incredible print speeds

Quite possibly one of the fastest direct-to- garment printers in it's class
Industrial-Grade Reliability
The PrecisionCore print chip is ideal for printing with direct-to- garment ink chemistry

Co-developed with Epson UltraChrome DG ink technology for reliability

Capable of high-production, with very little downtime for maintenance

Simultaneous Highlight White
Designs with white in image will receive a second coating of white ink for increased brightness

Print resolutions up to 1,440 x 720 dpi for color; and up to 1,440 x 1,440 for white

White Under-base Layer Precise dot control for outstanding clarity and sharpness for garment imaging
Simultaneous printing of both Color inks and White ink on top layer for increased speed
Minimal Increase of White Ink Use
Minimal increase of ink use as only white part of image receive highlight print

Maintain a soft-hand feel to the garment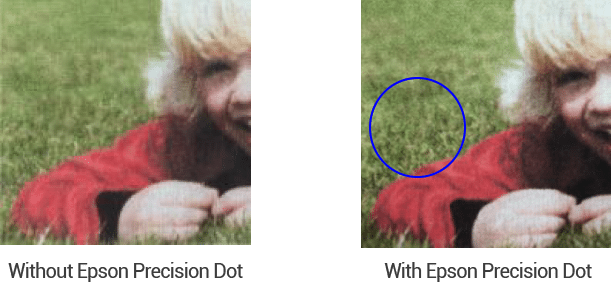 Epson Precision Dot Technology Increase Print Quality
Featuring variable size ink droplet control and advanced image processing for increased print quality

Improved image detail preserve on the garment

Smoother tonal gradations

Reduced mottling and "peppering" visual artifacts

Up to 10% greater range of color than previous generation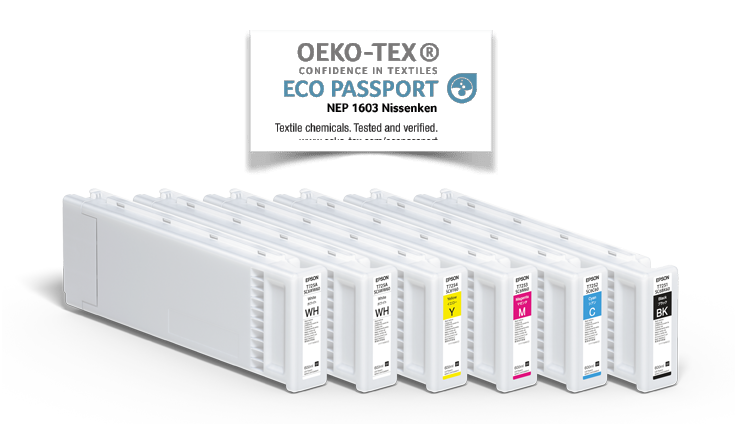 Internally Developed by Epson
Pigment ink technology designed for cellulose-based garment imaging. Best with 100% cotton (the purest form of cellulose), and performs well with cotton-poly blends and Tri-blend garments.

The SureColor F2100 printer is designed to be used exclusively with Epson UltraChrome DG inks and not with any other brands of cartridges or inks. Using Epson genuine ink is important for reliable performance and high image quality.
Epson UltraChrome DG ink is Eco Passport certified by Oeko- Tex. This is an international safety standard in the textile industry and a system by which textile chemical suppliers demonstrate that their product can be used in sustainable textile production

Epson UltraChrome DG Inks are safe for adults and children, including babies
High-Dispersion White Ink
Extended ink cartridge shelf life of 2-years

Enables a unique ability for the printer to idle for a week and start-up as if it were just overnight
Achieves excellent DTG color match to Brand and Licensed Merchandise colors
Robust Garment Durability
Dark Garments Top-rated on color change at 5, with 5 being best on a scale of 1 to 5

Independently tested by Philadelphia University based on standard AATCC #61 Accelerated Laundering Methodology. Ratings are for a SYSTEM consisting of Epson UltraChrome DG Inks and Epson Pretreatment fluid on a 100% Cotton ring-spun dark shirt cured at the recommended heat tunnel settings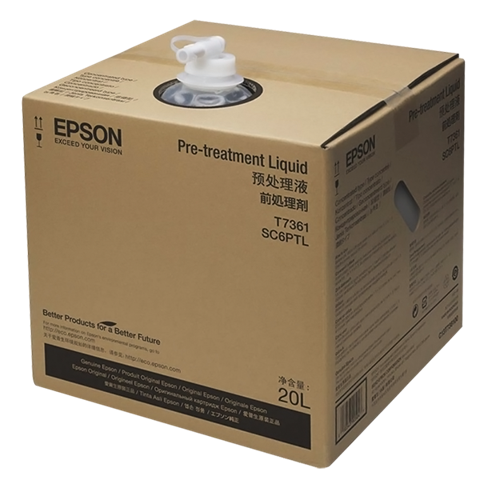 Developed by Epson Specifically for Epson UltraChrome DG Inks
Required to bind White Ink to the garment with exceptional durability and opacity

ECO PASSPORT Tested and Verified by OEO-TEX OEKO-TEXO

Verified to be safe for adults, children and babies CONFIDENCE IN TEXTILES

Meets all International safety requirements
Unlike other pretreatment fluids – the finished garment feels very soft

No sticky residue or odor
Can be applied with a paint roller, hand sprayer or dedicated pre-treatment machine
Achieves excellent DTG color match to Brand and Licensed Merchandise colors
Available in 20 liter concentrate, creates 40 liters of fluid by mixing 1 :1 with distilled water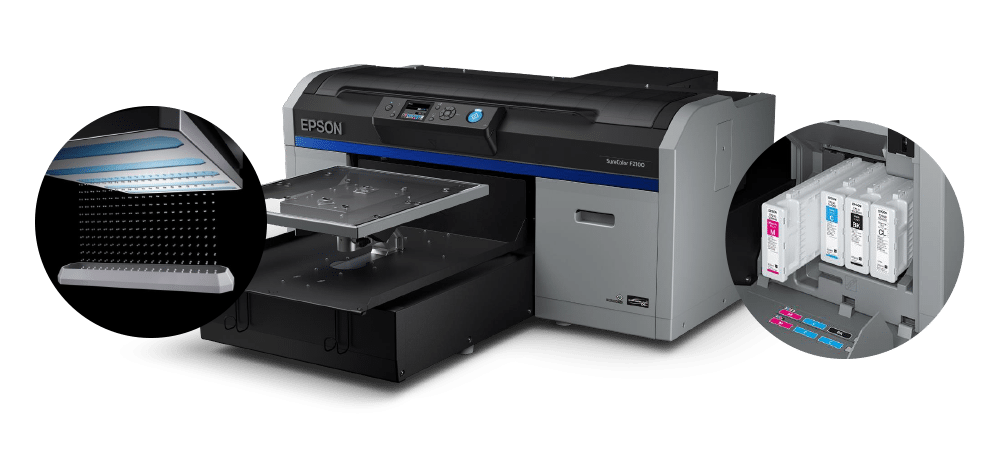 Inline Automatic Cleaning System
Cleaning solution delivered through printhead – No ink used

Eliminates manual daily tube wash activity

Automatically performed to save time and ensure proper maintenance

Inexpensive cleaning cartridge provides over 2 months of use
Pulls air inside of the printer through a replaceable filter to remove dust and loose garment fibers from print area.
Printhead Dust and Lint Guard
Prevents dust and garment fibers from contacting the prinhead. Automatically cleaned periodically with the printer's fabric wiper.


Advanced Ink Filtration (Reduced white ink nozzle clogging for greater up-time and reliability)
White Ink is Triple Filtered Before Reaching Printhead
In-cartridge filter – Prevents white ink coagulated particles from entering the printer's ink system

Inline white ink filter – Continuously filters the white ink before reaching print carriage

On-carriage filter – Filters the white ink prior to entering the printhead
White ink is circulated through the inline filter automatically throughout the workday

Circulation is done in the background and takes only 15 seconds to complete
Printhead Capping Station: User Replaceable

Printhead Cleaning Cap: Clean as Needed

Printhead Fabric Wiper: User Replaceable
Typical Printer Maintenance
Typically Requires Less Than 10 Minutes Per Week for Maintenance
Print the internal printhead Nozzle Check pattern to verify nozzle heath – one per day
If necessary, perform a printhead Cleaning cycle on the required channels – ink is use

As required, clean the printhead Cleaning Cap – once per week

Remove the color ink cartridges and Shake them – about once per quarter

When instructed by the printer, replace the printhead Capping Station, Printhead Fabric Wiper, and printhead Flushing Pad – about every 750 to 10,000 shirts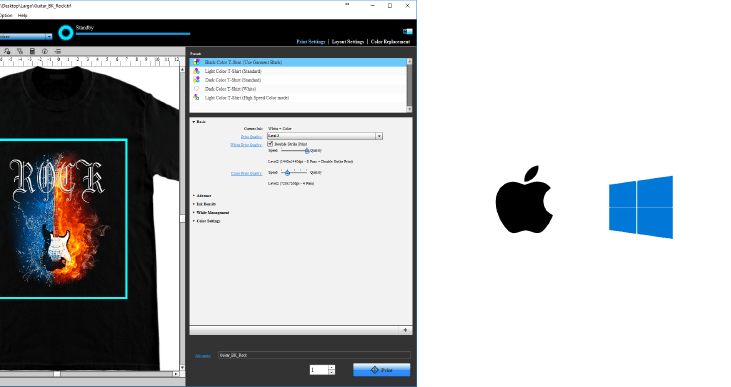 Advanced DTG Imaging Software Developed by Epson
Raster-based software application supporting sRGB – PNG, TIFF, JPEG and BMP files

Supports transparency in PNG and TIFF file formats for simplified imaging

Available for both Apple@ mac OS@ and Microsoft@ Windows@ platforms

Available via free internet download only
Easy-to-Use Garment Layout
Choose your platen size, place your image file(s), position, scale, rotate, etc. – then print

Add multiple images and text for greater customization of the garment

Very simple interface – quick learning-curve
Robust Dark Garment Controls
Powerful "Use-Garment- Black" feature for reduced imaging costs on black garments

Automatic generation of the optimal white ink under-base calculated for each image

Independent controls for color and white imaging

Pause-between- passes available for the ultimate in quality on high ink load garments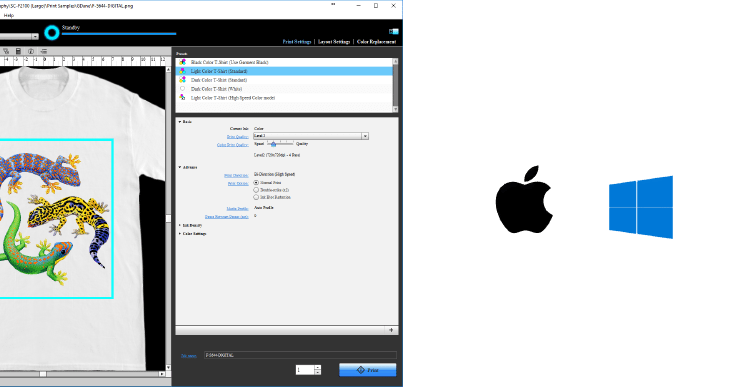 Powerful Light Garment Controls
Ink-Blot- Reduction mode prints yellow ink first then follows with another pass combining Cyan, Magenta and Black Inks providing cleaner and smoother dark colors with high yellow content and less bleeding

Double-Strike Mode for high ink density and vibrant colors on ring-spun combed cotton

Pause-Between- Passes available for the ultimate in quality on high ink load garments, usable with Ink Blot Reduction and Double Strike Print Modes
Built-in Job Estimating Tool
Provides milliliter ink usage and a cost estimate l for the graphic being printed based on the imaging mode and number of prints selected

Optional area to add in other production costs: Cost of Garment, Pre-Treatment, Labor, Maintenance, Equipment etc.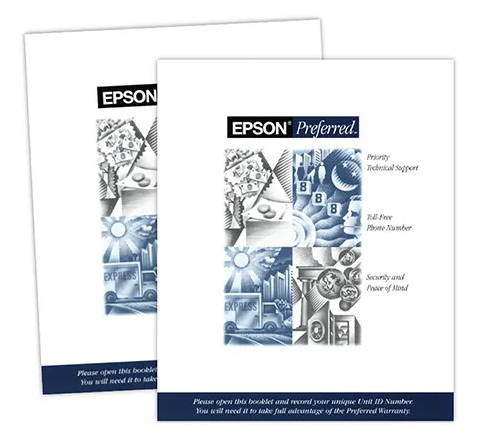 Standard 1-Year Epson Preferred Service
Free technical phone support Monday thru Friday from 6:00am until 6:00pm PST

If required, usually next-business day onsite service.

Includes all parts, printheads and labor

Covers the printer, genuine Epson optional accessories, and Epson software
Optional 1-Year Epson Preferred Plus Service Extension
Extends the standard 1-year Epson Preferred Service program by an additional 1-year

Can be purchased at anytime while still under an Epson Preferred Service program

Can be "stacked" twice for up to 3-years of total coverage (1 yr warranty + 2 plans)

Specific Exclusions: Repairs after 3 million carriage passes is reached, or after 2 visits or two printhead replacements
Light Color Garment Print Performance
Dark Color Garment Print Performance

Print times based upon print engine speed only, starting when ink is applied to the garment and ends when the application of ink to the garment ceases.
Computer processing, network transmission, loading and unloading of garments is not included in these times. Actual print times may vary. Testing conducted by Epson America, Inc. as of January 2018.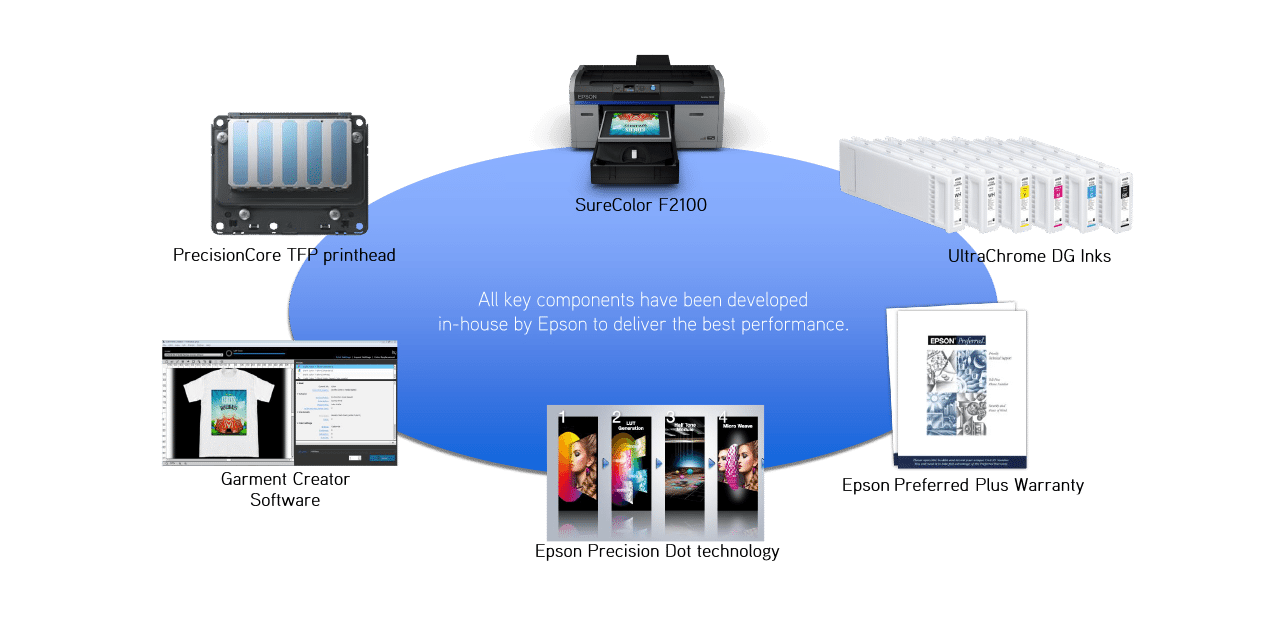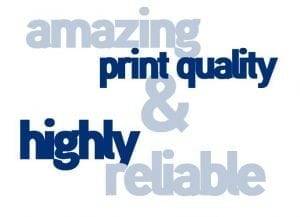 Product Value Proposition
Superior Garment Print Quality
Purpose-built printhead, ink, and printer mechanism – produces outstanding print quality
High-Performance Garment Production
One of the fastest garment printers in it's price class – runs all day with little downtime
Exceptional Printer Reliability
Developed specifically for high-performance, direct-to- garment imaging
Large-capacity 600 ml individual ink cartridges per color for a low cost-per- ml

Attractive printer pricing for a faster return-on- investment
World Class Service & Support
Standard I-year next-business- day on site service – includes printheads

Free phone support available Monday thru Friday
Why you should buy from All American Print Supply Co.
As the top U.S. authorized retailer of Epson products, All American offers competitive pricing for all your printing needs. Our team takes pride in the knowledge we carry across all spectrums. Not only are we well-versed on the technical specifications of all our equipment, our tam holds practical, hands-on knowledge through our collective experience in the printing industry. When purchasing printing equipment with All American, you can expect:
FREE TRAINING
Receive free training (included with your printer purchase)
FREE SHIPPING
We ship the printer for free within the contiguous U.S.
FREE TECH SUPPORT
Get answers to your questions from our top-tier expert technicians.
ONGOING SUPPORT
Direct access to our sales technicians through phone, text and email, and our exclusive Slack Channel, where our representatives are readily available to respond to your questions.
TOP TIER HELP
Receive unbiased advice on which printer suits best for your specific needs.