Epson SureColor F2100 vs OmniPrint Freejet 330TX
If you're in the market for a direct-to-garment printer, you've encountered some of the biggest names in the market. Both Epson's SureColor F2100 DTG and OmniPrint's Freejet 330TX boasts high-quality DTG capabilities. Prior to making your initial investment, you should consider all factors including maintenance, ink costs, print speeds, manufacturing quality, services, and warranty.
The Epson F2100 is encased with a self-cleaning system that allows the printer to perform its own daily maintenance every five operational hours. The cleaning system utilizes a fabric wiper and an in-line cleaning cartridge system, allowing users to minimize the time spent on maintenance.
The only special attention the F2100 needs is a minute-long weekly maintenance routine to maintain a clean capping system for the best prints. The Freejet, on the other hand, requires daily maintenance that can take upwards of up to five minutes.
One selling point of the Freejet 330TX is the ability to walk away from the machine for an extended period of time due to its wet cap system. The wet cap system allows the printer to remain idle for up to a month. Depending on your sales volume, this selling point of the OmniPrint may not even be a point of consideration. If your DTG printer is meant to generate profits, it isn't in the business's best interest to shut down your DTG printer for extended periods of time.
The wet cap system has been found to be inferior to a dry cap system. Epson's dry cap system is not only more reliable than a wet cap system, but it eliminates any air interfering with the printhead. Since there is no air entering, the ink does not dry up.
| | | |
| --- | --- | --- |
| | Epson F2100 | Freejet 330TX |
| | | |
| | | |
| | | |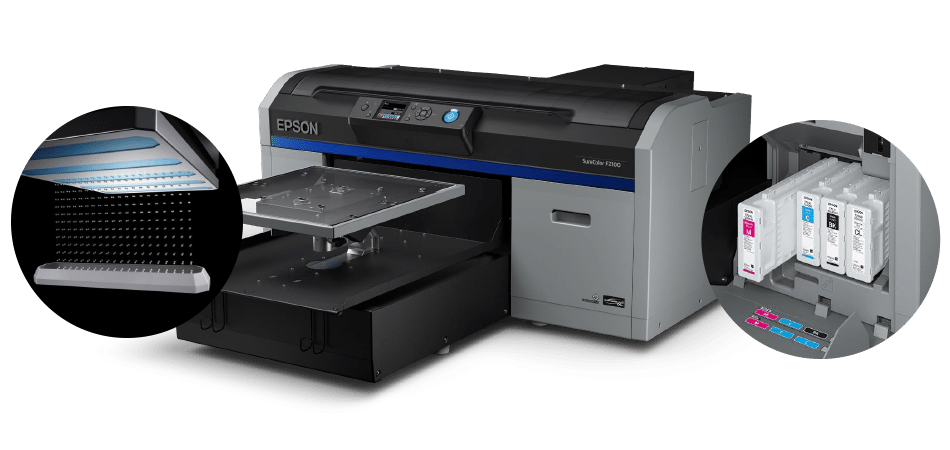 Perhaps the highest selling point for OmniPrint's Freejet 300TX is in the savings due to the bulk ink delivery system. The bulk ink eliminates cartridges and allows flexibility when different ink colors deplete at varying rates. Instead of ink cartridges, this system allows users to open the ink caps and refill the inks on a needed basis. Each bulk ink retails at $145/liter.
The costs of OmniPrint's ink are undeniably appealing. What they fail to address are the long-term consequences of the bulk ink approach. With a bulk ink delivery system, users are exposing their printers to higher risks of clogging their lines each time the ink bottles are opened to be refilled. Once debris and dust are introduced into the lines, users inevitably find themselves stopping the printer every 10 or so prints to perform a nozzle check and head cleaning. As the debris continues to travel through the lines, it will ultimately lead to damage to the print head. Replacing the printhead on a 330TX will cost customers $1,300.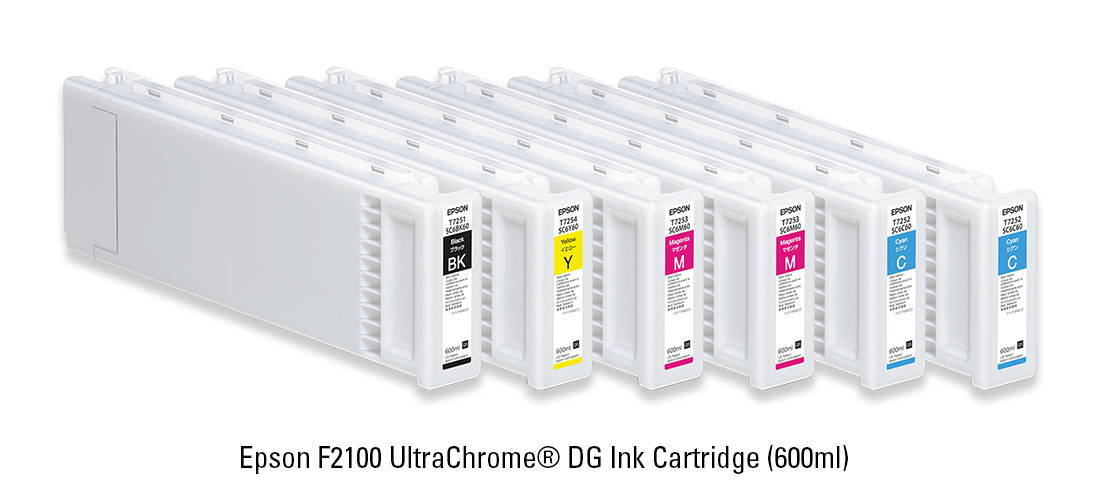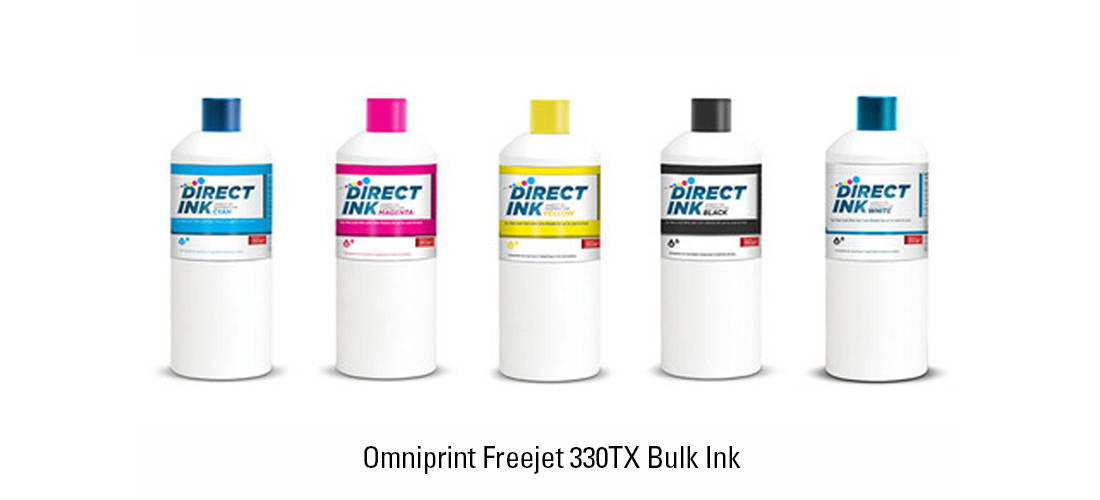 The F2100 relies on an ink cartridge system that prevents debris from entering into the lines. The cartridges have their own filtration system before delivering the ink. White ink cartridges have even more filters than the CMYK to prevent starvation. Each SureColor F2100 requires six cartridges: a CMYK and two white ink cartridges. Each ink cartridge retails for $217. With the proper printer settings, you can reduce costs on ink while maintaining print quality. All American offers its customers a free trial of their Kothari Print Pro Rip software that allows you to save costs on ink while maintaining a high-quality print.
Additionally, customers who anticipate a higher average printing volume (approximately 200+ garments/day) and own/purchase more than five Epson printers are able to capitalize on Epson's ink discounts which range between 10-50% off the retail price.
Both OmniPrint and Epson agree that the Epson F2100 can print faster than the Freejet 330TX. Whether the settings are in "production/speed mode" or "quality mode," the Epson F2100 can complete a print at a faster rate than the Freejet 330TX.
On production/speed mode, the Epson F2100 can print on a darker garment at the same rate as the Freejet 330TX can print on a light garment. The Freejet cannot keep up with the F2100's print speed that mass production companies always opt for the Epson F2100 over the Freejet.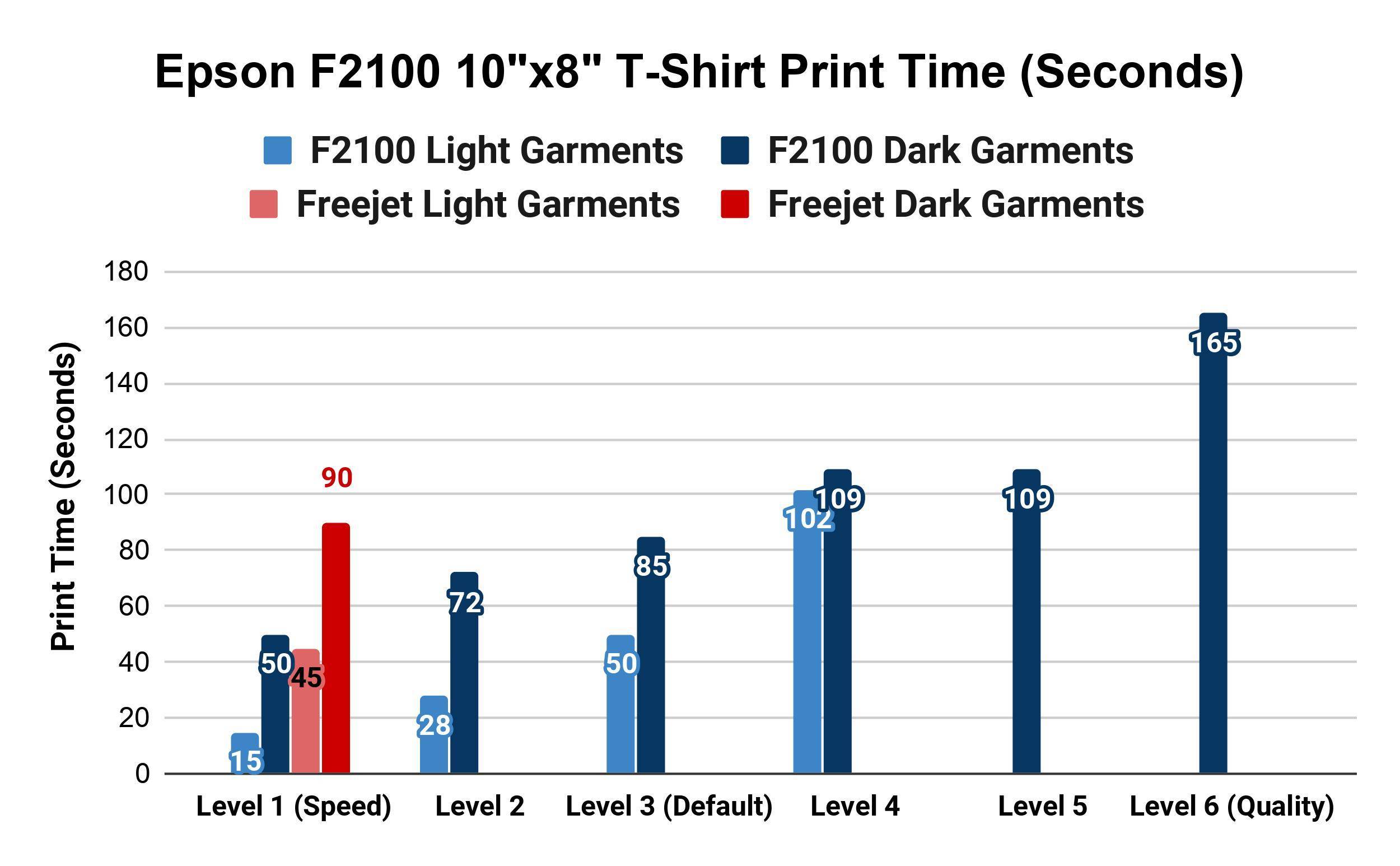 As large scale manufacturers of direct to garment printers, Epson and OmniPrint compete to claim their machines are of the highest standard. The Epson SureColor F2100 utilizes a more updated print head for the highest quality prints. The Freejet TX utilizes an outdated Epson print head that has been coated with PTFE. With the printhead being a crucial element of print quality, Epson has determined that the print head on the Freejet TX as obsolete and has since sourced and manufactures a superior print head to push dtg to new possibilities.
The service policies that OmniPrint and Epson are a long-term value that customers don't always calculate during the initial purchase. Both companies offer customers training but to varying degrees. Both are available to its customers remotely for technical support and troubleshooting. However, Epson F2100 customers receive on-site training and a one-year manufacturer's warranty that can be extended for up to three years.
The Freebird 300TX includes a two-year warranty. OmniPrint welcomes customers to receive training at their location in Southern California but if you happen to be distant, you will have to rely on remote training. While the ease of using the machine is its selling point, different factors can lead to stark differences in print quality. Having a trained professional to help set up your new business venture is an invaluable cost that OmniPrint seems to undermine.
On the day-to-day, Epson provides 24 hour service and can have a technician out to your location for personalized assistance. Freejet customers do not have the option of having a technician visit them on site. Instead, they can call and receive off-site servicing or must ship the printer back to OmniPrint to be serviced. OmniPrint offers to send replacement parts to customers so they can self-service their equipment. Once again, Omniprint seems to undermine the value of on-site professional servicing of your investment.
Epson SureColor F2100
What's included with the your purchase of the Epson SureColor F2100?

On-Site Training
Epson F2100 consumers receive a on-site training with a professional at the equipment's location

Standard 1-Year, On-Site,
(Usually) Next-Business-Day Service

Optional Warranty Extension
Warranty can be extended up to 5 years

Lifetime Support from All American
The sales technicians at All American are always available to you
Epson F2100
Freejet 330TXDirect

Print Speed: White Garments

10 x 10 image, 45 seconds

Print Speed: Dark Garments

90 seconds on production mode

Up to 1440 x 1440 dpi for White Ink
Up to 1440 x 720 dpi for Color Ink

Standard 1-year, on-site, usually next-business-day service with
toll-free phone support Monday through Friday; Warranty extension optional

Garment Creator provided; All American Customers receive a free trial of
Kothari Print Pro Rip software with purchase
Epson F2100 vs Freejet 330TX, Bottom Line:
A direct-to-garment printer has the potential to take your business to new heights. On a few levels, some may argue Freejet 330TX and Epson F2100 are comparable machines; they both offer the ability to print on polyester garments, can print high-quality images, and automatically circulate white ink to prevent ink separation. However, being aware of the seemingly small factors will allow you to make the best investment for your long-term business profitability and productivity.
If you're interested in discussing your options for an Epson F2100, please feel free to email us at info@dtgmart.com, give us a call at 714-576-2900, or visit our product page here.
Why you should buy from All American Print Supply Co.
As the top U.S. authorized retailer of Epson products, All American offers competitive pricing for all your printing needs. Our team takes pride in the knowledge we carry across all spectrums. Not only are we well-versed on the technical specifications of all our equipment, our tam holds practical, hands-on knowledge through our collective experience in the printing industry. When purchasing printing equipment with All American, you can expect:
FREE TRAINING
Receive free training (included with your printer purchase)
FREE SHIPPING
We ship the printer for free within the contiguous U.S.
FREE TECH SUPPORT
Get answers to your questions from our top-tier expert technicians.
ONGOING SUPPORT
Direct access to our sales technicians through phone, text and email, and our exclusive Slack Channel, where our representatives are readily available to respond to your questions.
TOP TIER HELP
Receive unbiased advice on which printer suits best for your specific needs.