Epson SureColor F2100 vs Ricoh RI 1000
Many of our prospective customers inquire about the differences between the Epson F2100 and Ricoh RI 1000 and what they can expect from each direct-to-garment printer. We've laid out the major points that we highlight to our customers as they are moving forward into making their initial investment including: print quality, print speed, ink costs, maintenance, and warranty.
The image quality that a dtg printer can produce is of utmost importance. Both the Epson and Ricoh have the ability to highlight white ink on the prints to make an image pop and create a more vibrant and detailed final look.
The Epson F2100 is capable of printing images that have a 1440×1440 dpi resolution with whites and 1440×720 dpi resolution with color. In contrast, the print resolution on the Ricoh Ri1000 has a lower resolution capability at 1200×1200 dpi image.
Both printers have the ability to adjust the platen height so the platen can be moved closer or further away from the print head. Depending on the type of garment you are printing on and how thick the garment is, adjusting the platen height will protect any potential damage to the print head while maintaining the sharpness of the printed image. While platen height can be adjusted on both dtg printers, the F2100 offers greater variance in height adjustments in smaller increments than the Ri1000. Thus, the Epson is capable of printing finer lines and details for the final job.
| | | |
| --- | --- | --- |
| Model | Epson F2100 | Ricoh RI 1000 |
| | Direct to Garment Printer | Direct to Garment Printer |
| | | |
| | | |
| | | |
| | | |
Print speeds are presented on each of the manufacturer's respective product pages. The numbers presented should be taken with a grain of salt as print speed is influenced by various factors including print settings (production mode versus high resolution), image to be printed, and image size.
All American ran test prints and compared side-by-side the print speeds of each printer with each setting set to equal one another. When comparing print speeds side-by-side, the Epson was able to complete the print a second faster than the Ricoh was able to print.
Ink costs are perhaps one of the most crucial factors for most customers. Each Epson ink cartridge is priced at $217 while Ricoh's ink cartridge costs $61. However, since the cartridges are not the same size, the comparison in dollars per cartridge is not a comparable measure. When breaking down the difference in ink cost by milliliter, Epson F2100's ink is only $0.03/ml. more expensive than Ricoh RI 1000. The difference in cost is minimal when compared by milliliter. Ink costs can also be further reduced by utilizing a proper rip software that can detect the garment color and use the garment's color to complete the printed image, without spraying unnecessary ink on the garment.
All American customers will receive a free trial of the Kothari NeoRip Software which maintains high-quality prints while saving costs on ink.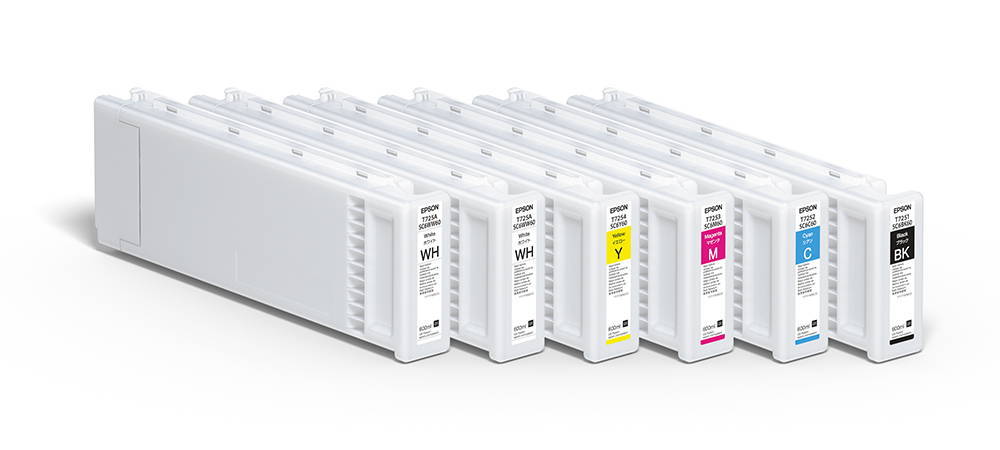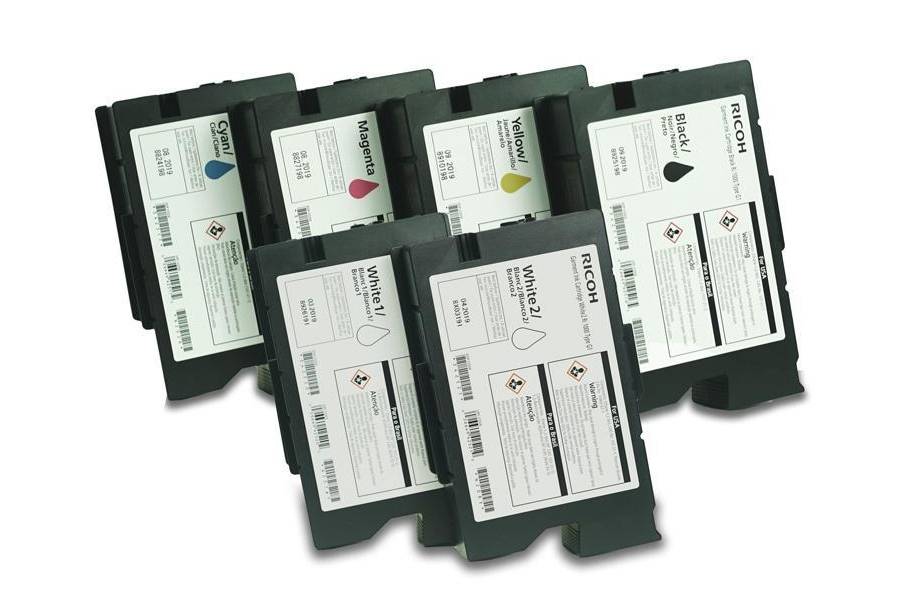 The maintenance routine of each printer can shape how you operate your print shop on a day-to-day basis. Adhering to the maintenance recommendations for any equipment will ensure the proper performance and longevity of your machine. While both manufacturers boast minimal maintenance of the dtg printers, the difference in maintenance protocol is worth noting.
The Ricoh RI 1000 markets itself as being "walk up ready" so it does not need to be turned off at the end of the day. On any given day, you can simply walk up to your printer, load the image and begin printing. Customers should be mindful of whether "walk up ready" is ideal for their business. If users do not have a high production volume, keeping the machine on to be "walk up ready" will result in wasting ink to self-clean instead of being utilized to print garments.
The Epson is powered off at the end of each day. Thus, the Epson does require a few minutes to be powered back on each day and while this is not an extensive process, it is time that may need to be accounted for.
The Ricoh RI 1000 requires a hands-on maintenance routine and users can replace parts on their own if necessary. While this seems rather straightforward, isolating the issue with the printer, determining the actual parts that need replacement, and waiting for delivery of the proper parts can be an extremely time consuming process. Since all the pieces of the Ricoh are modular, users follow a technician's virtual guidance as they instruct you on how to install the replacement parts. The time required to assess and repair the printer issue can cause your business to have less than ideal down times before production can pick back up.
Epson's system is self-enclosed to minimize debris contamination and customers are able to call a technician for any repairs. Epson technicians will be at your location within 24-48 hours and you can be back to operating rather quickly than if you had to self-assess the printer's issue and wait for replacement parts to be shipped to you.
Maintenance for the Epson occurs more frequently since maintenance for the Epson occurs automatically each time the printer is turned on and off. The self-cleaning system initiates every five operational hours. Apart from the daily maintenance, the F2100 requires a weekly maintenance routine to keep the capping system clean for high quality prints. Epson users can purchase cleaning solution cartridges which allow for an easier, hands-off maintenance routine. Additionally, for every 1,000 prints that are completed on the Epson, users must use the maintenance kit. Each Epson maintenance kit is $100.
Overall, the Ricoh users only save minimally in costs for maintenance. The hands on approach takes a large toll on one's time to actively run their business as errors in maintenance can lead to unanticipated down time to fulfill orders. The minimal savings on costs are offset by loss in time, sales, and profits. On the other hand, Epson maintenance is automated and hands-off and has a nominally higher dollar cost. The reliability of Epson's automated maintenance routine and the tech support is invaluable to running a successful business.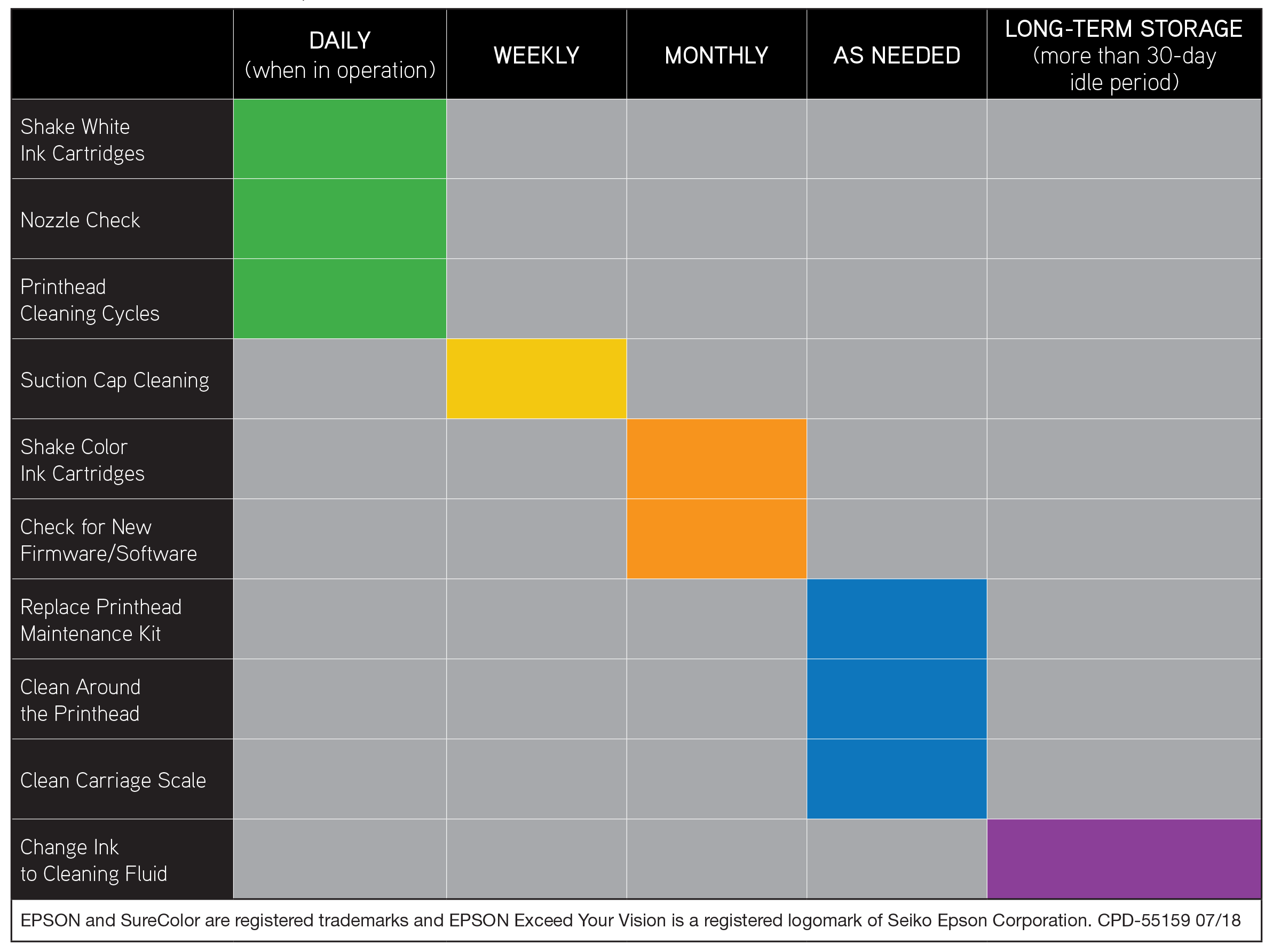 Both Ricoh and Epson offer customers a one-year manufacturer's warranty with the initial purchase of a direct-to-garment printer. Despite both companies providing warranties, the differences in coverage are stark and can drastically impact the amount of stress and trouble users experience if their printers require attention or replacement.
Epson offers a broad, "no questions asked" warranty and will resolve any issue that you experience with your printer during the warranty period. The warranty for the Epson F2100 can be extended up to four times after the first year of warranty. If customers opt to extend the warranty all four years, they are able to secure coverage for their machine for a total of five years. Epson Support is available via chat, email, and phone. Details of Epson F2100's warranty coverage can be found here.
While Ricoh offers a one year warranty for the RI 1000, it is not as extensive as Epson's coverage. When you submit an issue covered by warranty, Ricoh will conduct a thorough investigation and strictly follow the warranty guidelines. These investigations can result in printer issues remaining unaddressed and thus unable to operate at its full potential. Ricoh offers warranty extensions for an additional 1-2 years if the extension is purchased within the original warranty period. Ricoh Support is available by phone at 877-646-0999. Details of Ricoh RI 1000's warranty coverage can be found here.
Understanding the fine details of the warranty coverage is a hidden cost that should be taken into consideration as seriously any other factor when making the financial investment.
Why you should buy from All American Print Supply Co.
As the top U.S. authorized retailer of Epson products, All American offers competitive pricing for all your printing needs. Our team takes pride in the knowledge we carry across all spectrums. Not only are we well-versed on the technical specifications of all our equipment, our tam holds practical, hands-on knowledge through our collective experience in the printing industry. When purchasing printing equipment with All American, you can expect:
FREE SHIPPING
We ship the printer for free within the contiguous U.S.
FREE TECH SUPPORT
Get answers to your questions from our top-tier expert technicians.
ONGOING SUPPORT
Direct access to our sales technicians through phone, text and email, where our representatives are readily available to respond to your questions.
TOP TIER HELP
Receive unbiased advice on which printer suits best for your specific needs.