Epson SureColor F3070
Direct to Garment Printer
Please Fill Out the Form For More Info
Redefining Direct-to-Garment Printing
The new Epson SureColor F3070 Direct-to-Garment (DTG) printers deliver breakthrough productivity and cost of ownership with rugged reliability you can count on.
As the winner of the 2021 Premier Print Best of Category for Digital Printing (Direct-to-Garment) Award (issued to All American Print Supply Co), we strive to be the best source of any of your DTG related questions or inquiries. Experience for yourself the quality help you expect.
Epson SureColor F3070 Features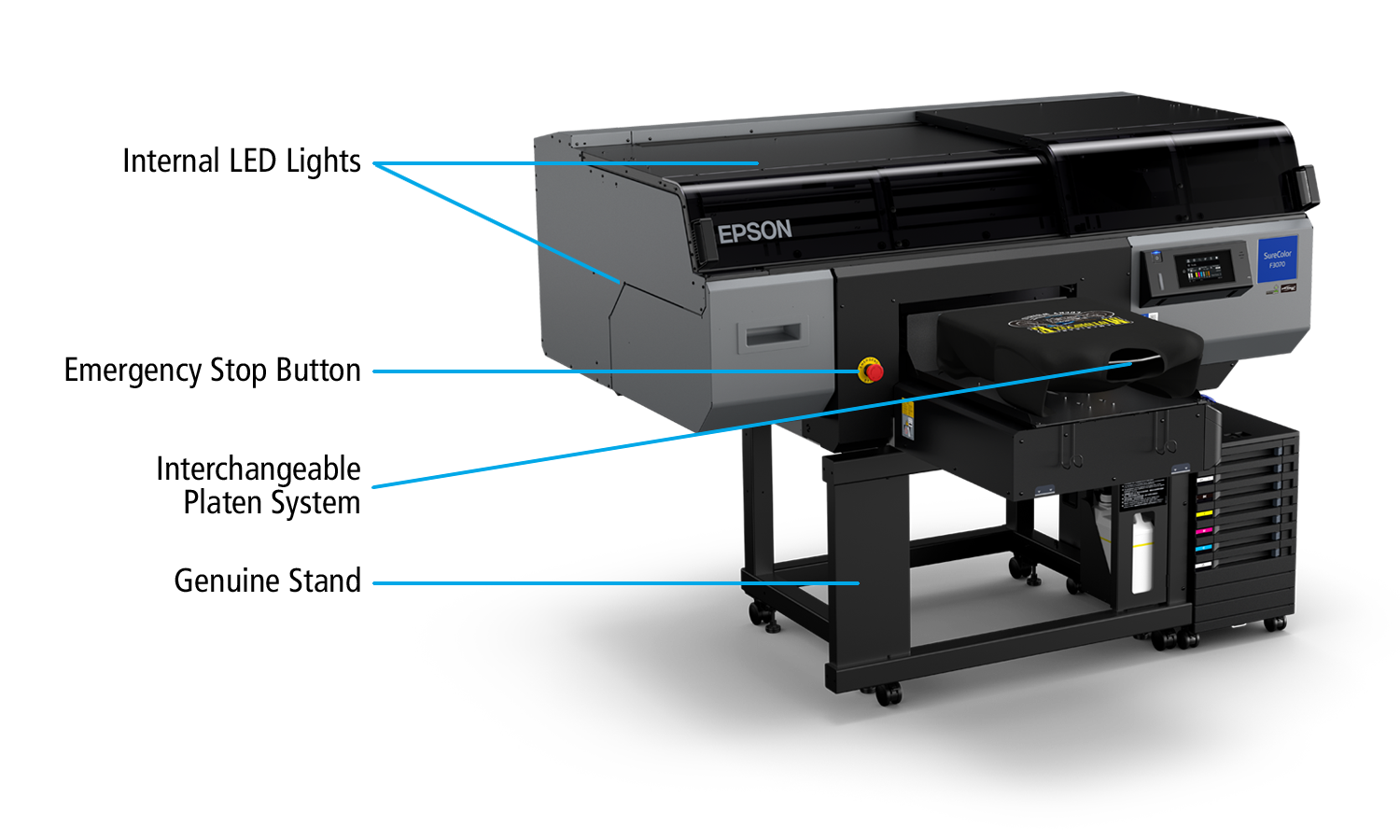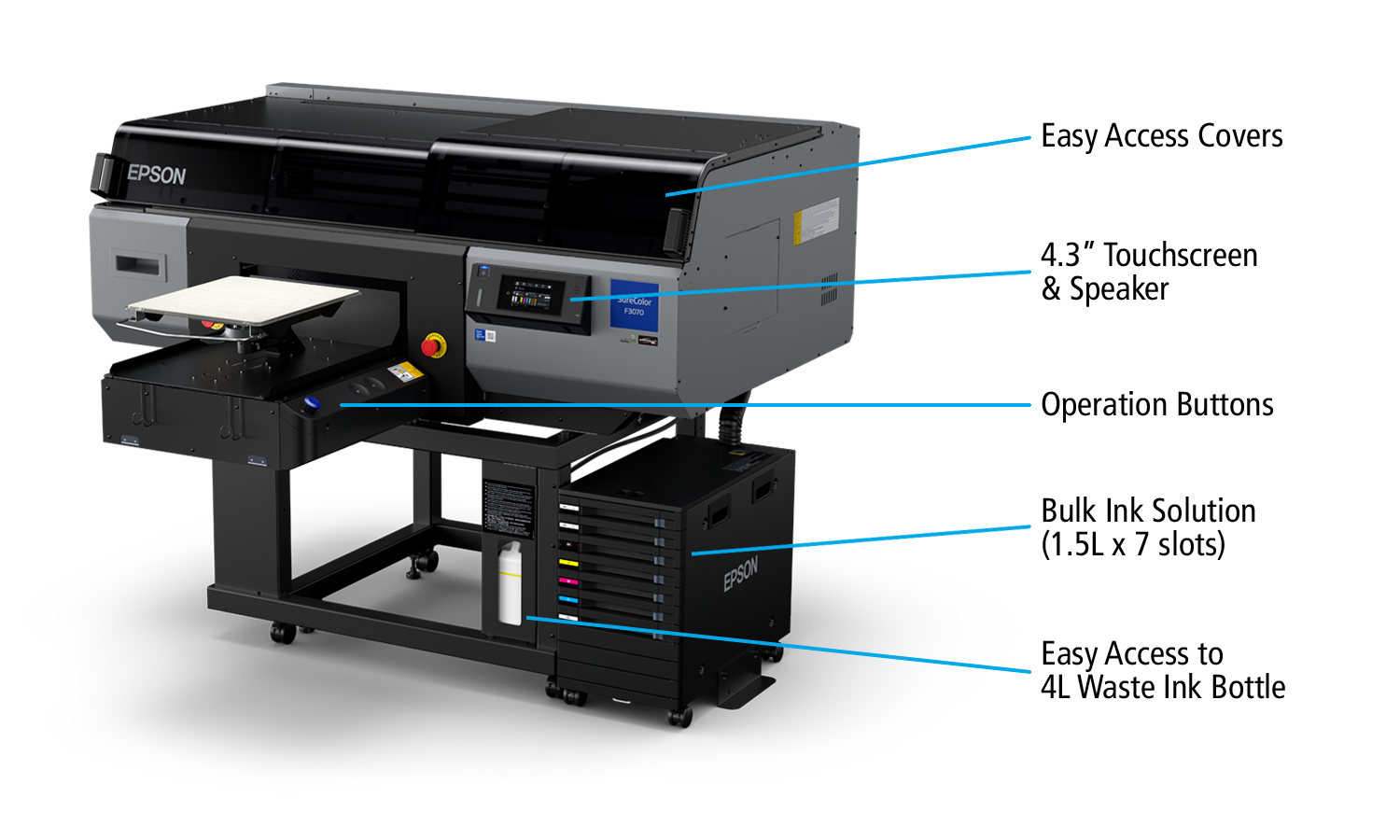 UltraChrome DG Ink Technology

Garment Thickness Optimization & Quick-Load Hanger Grip Platen

High Performance Processing

Automated Cleaning System & Dust Control

Epson Preferred Plus Service Programs

Epson Cloud Solution PORT & Complete Epson Genuine Solution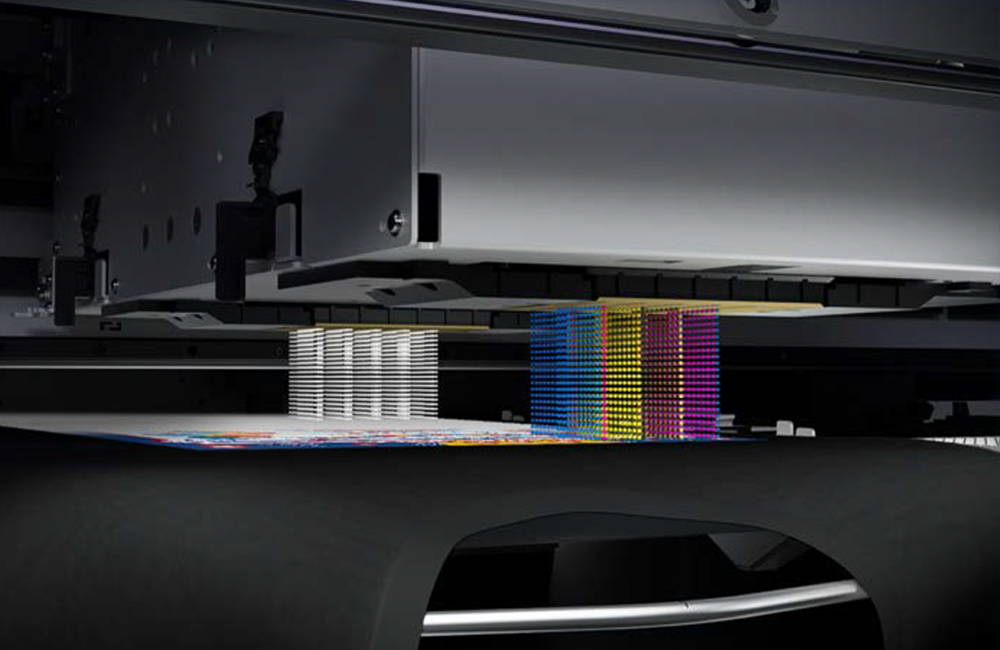 High-Performance Printhead Technology
8,000 nozzles per printhead x 2 heads = 16,000 total nozzles

Printhead width of 2.6 inches delivers high productivity with extreme drop placement accuracy for outstanding print quality

Variable-Sized Droplet Technology with resolution up to 1,200 x 1,200 dpi

New Nozzle Verification Technology automatically detects nozzle health and can correct without user interruption

Built-in redundancy allows production to continue should an issue occur

User replaceable head design can be completed in minutes
High-Performance Ink Technology
5 Color Ink set with high-opaque whites and vibrant colors

Oeko-Tex ECO PASSPORT and Global Organic Textile Standard certified inks

When applied to fabric and appropriately fixed, garments have been determined safe for use by adults, children, and babies1.

High capacity 1.5 Liter ink packs for less frequent replacement and lower costs

Ink pack system minimizes waste when compared to traditional cartridge systems
Print time measured reflect the continuous period beginning when the printer start button is pressed, includes the garment entering the printer, ink applied to the garment, garment exiting the printer, and ends when the platen motion stops for garment removal.
Computer processing, network transmission, loading and unloading of garments are not included in these times. Actual print times may vary. Testing conducted by Epson America, Inc. as of June 2020

Automatic Garment Thickness Optimization
Garment thickness measured by 6 sensors during the loading process every 1/100th of a second to create a garment height profile

Printer determines the garment minimum, average, and maximum heights

Printhead carriage physically moves up/down to the optimal height as desired by the media settings (min, avg, or max thickness)

The process is automatic and performed seamlessly in parallel with other pre-print tasks

High Speed Garment Loading System
Hanger platen helps operators quickly load garments with proper alignment

2nd Generation Grip Pad reduces loading and unloading time by adhering to the platen surface keeping platen sides smooth for garment to slide easily

Platen Hoop can be used with the grip pad in place if desired
Streamlined Processing for Greater Productivity
Streamlined Processing for greater productivity

Print preparation tasks run concurrently with garment loading

Printer is ready to print as data begins streaming to printer; no need to wait for the entire image to load

Post-printing tasks are run quickly while user unloads the garment
The result: Less time spent waiting – More time printing

Head Cleaning Fabric Wiper Cassette
Maintains both printheads in pristine condition

Enables dry capping of heads without risk of ink buildup or need for expensive head soaking liquid

Spend more time printing and less time maintaining – No daily maintenance

Simple user replaceable cassette last for approximately 2,500 shirts
Inexpensive maintenance liquid is used to flush the cleaning caps and tubing to prevent ink build up and removal of dust and fibers.

Minimal user maintenance time required – only a few minutes once a week
Airborne dust and fiber is actively removed from the print environment with the use of three active air filters
Printhead Dust and Fiber Guard
Minimizes garment fibers and dust particles from contacting the print head.

Static charged zones around each printhead minimizes airborne dust and fibers from causing blocked print nozzles

Automatically cleaned with the printer's fabric wiper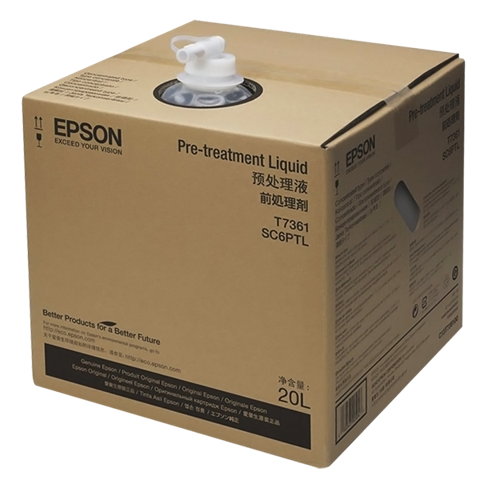 Developed by Epson Specifically for Epson UltraChrome DG Inks
Required to bind White Ink to the garment with exceptional durability and opacity

ECO PASSPORT Tested and Verified by OEO-TEX OEKO-TEXO

Meets all International safety requirements
Unlike other pretreatment fluids – the finished garment feels very soft

No sticky residue or odor
Two Formulations - Competitively Priced
Cotton pretreatment: 20L concentrate yields 60 liters when diluted

Polyester pretreatment: 18L ready to use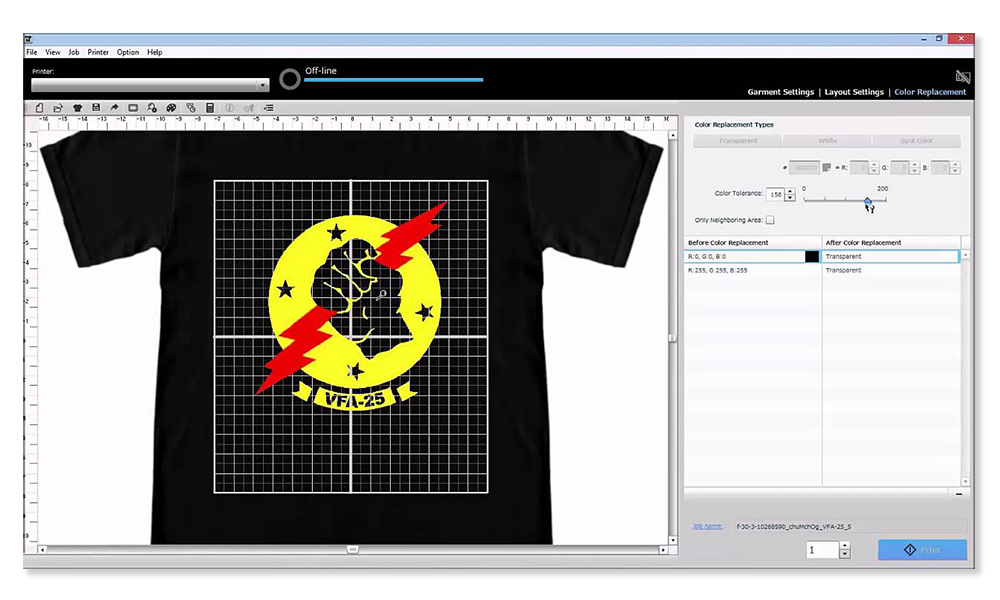 Advanced DTG Imaging Software Developed by Epson
Raster-based software application supporting sRGB – PNG, TIFF, JPEG and BMP files

Supports transparency in PNG and TIFF file formats for simplified imaging

Available for both Apple@ mac OS@ and Microsoft@ Windows@ platforms
Easy-to-Use Garment Layout
Choose your platen size, place your image file(s), position, scale, rotate, etc. – then print

Add multiple images and text for greater customization of the garment

Very simple interface – quick learning-curve
Robust Dark Garment Controls
Powerful "Use-Garment- Black" feature for reduced imaging costs on black garments

Automatic generation of the optimal white ink under-base calculated for each image

Independent controls for color and white imaging
Epson Preferred Plus Service Coverage Plans Include:
Technical phone support Monday thru Friday from 6:00am until 6:00pm PST

If required, usually next-business day onsite service.

Covers the printer, genuine Epson optional accessories, and Epson software

Can be renewed annually for up to 5 years of coverage

Select a plan that best fits your business needs:

1 Epson Preferred Plus with Printhead Self-Service plans require enrolment in Epson Cloud Solution PORT. The printer must have Internet connectivity when it is set up and when the customer replaces a print head. Epson recommends that the Printer have a full-time Internet connection to allow customer to access advanced Printer-management features.
Operational Dashboard View of Your Production Line
Cloud based print fleet activity reporting

View production rates, printer utilization, up-time, and more from any connected device

Live production information to help optimize your production efficiency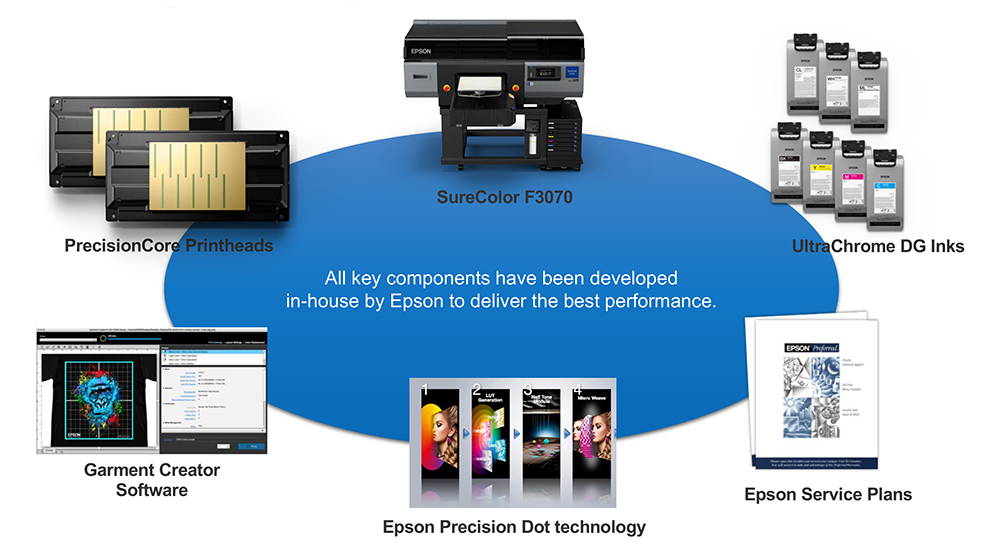 Why you should buy from All American Print Supply Co.
As the top U.S. authorized retailer of Epson products, All American offers competitive pricing for all your printing needs. Our team takes pride in the knowledge we carry across all spectrums. Not only are we well-versed on the technical specifications of all our equipment, our tam holds practical, hands-on knowledge through our collective experience in the printing industry. When purchasing printing equipment with All American, you can expect:
FREE SHIPPING
We ship the printer for free within the contiguous U.S.
ONGOING SUPPORT
Direct access to our sales technicians through phone, text and email, where our representatives are readily available to respond to your questions.
FREE TECH SUPPORT
Get answers to your questions from our top-tier expert technicians.
TOP TIER HELP
Receive unbiased advice on which printer suits best for your specific needs.