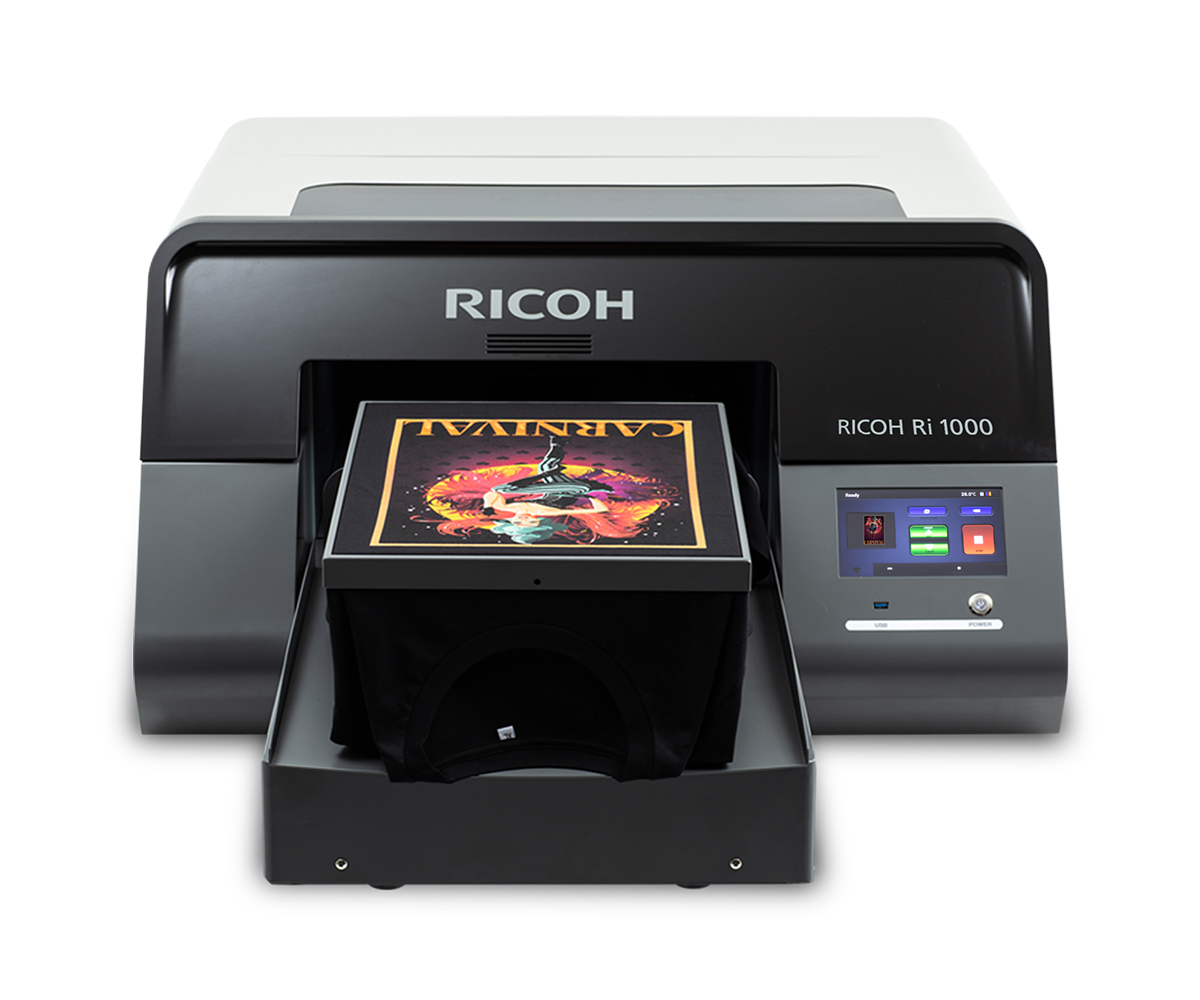 Ricoh RI 1000
Preparation Checklist
This page is for our current DTG customers.
If you purchased Ricoh RI 1000 printer, you need to consider this preparation checklist:

List 1
Sturdy Desk or Table for Ricoh RI 1000: Must be able to hold 150 lbs,
Dimensions: 24" x 36" or bigger
Computer(PC/Mac): You will need PC or a parallel on Mac to run Windows
Internet Connection (Please let us know if you do not have internet)
Printable Files in PNG (Transparent Background)
Mandatory Only with Pretreatment Machine Purchase: 1 Gallon of distilled water / Purchase from local market
How to Set up Slack Account
Must Purchase-Pretreater Tables
| | |
| --- | --- |
| Pretreatment Machine | Compatible Table |
| | |
| | |
| | |
| | |
| | |
| --- | --- |
| Item | For Use |
| | To keep environment above 25% humidity |
| | To make sure heatpress temperature is above 345 F |
Item
Surge Protector for Your Printer
Three 8 oz Cup for Cleaning Pretreatment Machine
Scissors, Permanent Marker, Straightedge Ruler, Windex, and Paper Towel
Inter-dental Brush (For weekly cleaning)
Software & Driver Download
Free 20-day NeoRip Trial! You will receive a dongle with your supply package & a downloadable software link sent out to your email! (NeoRip is not compatible with Mac) — Click to learn more.
Please register to activate your warranty.
Why you should buy from All American Print Supply Co.
All American offers competitive pricing for all your printing needs. Our team takes pride in the knowledge we carry across all spectrums. Not only are we well-versed on the technical specifications of all our equipment, our tam holds practical, hands-on knowledge through our collective experience in the printing industry. When purchasing printing equipment with All American, you can expect:
ONGOING SUPPORT
Direct access to our sales technicians through phone, text and email, where our representatives are readily available to respond to your questions.
FREE TECH SUPPORT
Get answers to your questions from our top-tier expert technicians.
TOP TIER HELP
Receive unbiased advice on which printer suits best for your specific needs.