Prestige XL2 DTF Roll Printer
Save

$945.00
Original price
$20,940.00
SKU
BNDL-PRESTIGE-XL2-DTF
** Current Lead Time: 1-2 Weeks **
Prestige XL2 Maintenance Chart
Find out how you can get 0% Financing for 1 year on this printer here!

The Prestige XL2 is your perfect high-end DTF printer option, with dual printheads, premium print quality, and a smaller size in comparison to other printers with similar performance. Elevate your garment printing pipeline today with the Prestige XL2 DTF Printer, plus save when you bundle with the Seismo A24 Powder Shaker for easier, more efficient DTF printing.
Requires

 

On-Site Training

 

(not included)

On-Site Setup/Training + Driving Distance includes:

One Time Driving Distance within 2 hours 

(of Buena Park, CA, 90621)

4~6 Training Hours Onsite
Lifetime Virtual Training

On-Site Setup/Training + Air Travel Domestic includes:

One Time Accommodations such as hotel, rental car, flight ticket
4~8 Training Hours Onsite
What's included:
Lifetime Technical Support

CADlink Digital Factory V11 for DTF Rip Software

Limited 1-year warranty on non-consumable parts and limited 6 month warranty on the Printhead up to 2 Printheads*
Features
:
Two i3200 print heads
White Ink Management System (WIMS): timed white ink stirring system to circulate and maintain white ink inside printer
Head Strike Sensor: helps prevent damage to printhead
Auto-Cleaning: when printer is left on, it will automatically maintain and clean printhead
Auto Ink Alert System: informs user when ink is running low

Automatic Film Sensor: if film runs out/is not detected, stops printing
Attachment Station: Perfect for add-ons, such as the Printflo Barcode Automation System
Variety of adjustable settings including:

Belt Speed
Powder Shaking Power
Cooling
Suction
Benefits:
Speed & Efficiency: 2 i3200 print heads make this printer one of the fastest performing DTF printers on the market
Compact Size/Smaller Footprint when compared to printers with similar print width and speed
Specifications: 
Print Head 
Dual Epson I3200 Printheads (CMYK + WWWW)
Printing Accuracy
1440/2160/2880dpi
Printing Speed 
4Pass: 12㎡/hour
6Pass: 9.5㎡/hour
8Pass: 7.5㎡/hour
Extra features
Front and rear arc plate heating; Platform suction; Anti collision of nozzle; Integrated auto-lifting capping station
Maximum Print Width 
24"
Printing Interface
Gigabit network port
Operating System
Windows 7, Windows 10
Printing Software

Digital Factory V11 Direct to Film (DTF) Edition - DTF Edition (24" Wide or Larger)

Operation Environment
Temperature:15℃-30℃ (60

°F-86°F)

, Humidity:35%RH-65%RH
Rated Voltage
220

Rated Current
14A
Rated Power
1500W
Dimensions of Printer (LxWxH)
Without Attachment Station: 29.5" x 57.5" x 55.5"
With Attachment Station: 29.5" x 66" x 55.5"

Dimensions of Packing (LxWxH)

36" x 78" x 62"




Machine Weight

339 lbs

Packaging Weight

383 lbs
 
The DTF Process: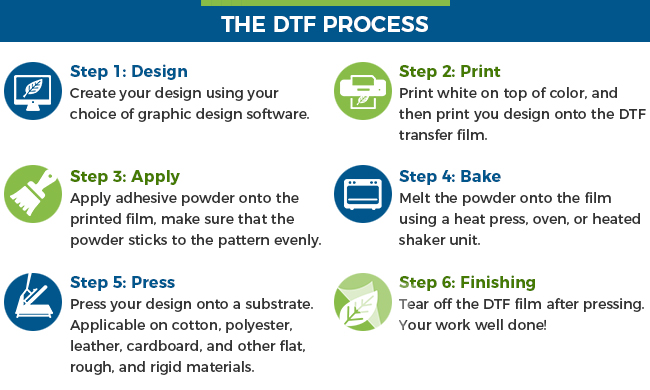 Advantages of DTF Printing:
A great option for small orders.
No cutting and weeding required.
Crisp, defined edges and images from start to finish.
Low cost on waste.
Low investment - high reward.
Applications:
All Color T-shirt
Sweater / Hoodie
Jersey
Canvas Bag / Cushion
Jeans / Denim Cloth
Leather
Shoes
Pants / Trousers
Cap / Mask
--------------------------------------------------------
Seismo A24 DTF Powder Applicator and Dryer
The
Seismo A24 DTF Powder Applicator and Dryer
unit can cure DTF film rolls up to 30 inches wide and is compatible with all roll to roll Direct to Film printers. This machine has 220 volts, 21 amps and requires hardwire. (Please communicate with your electrician to install this product).


Features:
42.52 inch Heater

: Longer heater/dryer than other dryers to accommodate Faster DTF roll-to-roll printers. 

Compact Size

: Smaller in comparison to other DTF powder applicators, without sacrificing quality or performance.

Advanced Built-in HEPA 2 Layer Air Filters

 

filter out any fumes from DTF powdering. These low maintenance, easy-to-replace filters keep your working environment clean and safe.

Advanced Film Detector

: With the built-in film sensor, the Seismo A24 automatically turns off and on the power station and heating elements. This results in a lower power requirement of 220v 21 Amp (consumes approximately 30% less than the older generation).

Advanced powder ventilation within the powder station

: Heating fans help reduce any powder build-up in the powdering station, meaning less maintenance for the user.

Air vacuum conveyor system

: Air vacuums at the front and back of the conveyor keep film from slipping or moving. They also help to align the DTF film to achieve even heating throughout the heater/dryer.

Advanced Take-Up System

: Additional tension bar to roll up the finished DTF films better.

LCD Touch Screen

: Easy to monitor and control 
Warranty:

 

1 yr warranty on all parts excluding air filter/ purification system (regular maintenance required)
Actual Dimension: 
6.1 x 3.5 x 3.5 ft.
Specifications:
Power
4KW
Shaking Powder
Motor vibration, automatic powder return-free
Heating Method
Back baking and front baking for speed and consistency
Take-up and Feed Film
Auto-sensing
Operation Mode
Manual/Auto control
Mesh Belt
Drum suction operation mesh belt
Automatic Deceleration of Film Cutting
Prevent deformation of heating film
Method of Dusting
Constant weight automatic sensing
Shipping Weight

783

 

lbs.



Product Dimensions
6.1 x 3.5 x 3.5 ft.
Package Dimensions
6.5 x 4.3 x 3.6 ft.
Configuration
With All-in-one smoke purifier
-----------------------------------------------
Seismo V24 DTF Powder Shaker and Dryer
Seismo Shaker and Dryer Maintenance Chart
Seismo V24
The Seismo V24 is a DTF Powder Shaker and Dryer with vacuum absorption conveying platform and touch screen display, ideal for high-speed DTF printers with two heads, like the Prestige L2 or Prestige XL2 from DTF Station.
Features:
With a warming inlet platform, automatic powder dispenser, powder removal paddle, 4 bulb tunnel dryer, and roll up at the end.
Color reproduction is improved and protected by infrared drying and heating.
Customized powder recycling drawer boosts efficiency.
Control of shake powder, dusting, and curing temperature via PID.
Powder is evenly distributed thanks to automatic powder feeding.
The vacuum absorption conveying platform keeps the printing material secure, preventing bulging, run-offs, and media waste.
Benefits:
Simple to use with a touch screen display controller.
This all-in-one unit saves time, effort, and money by evenly spreading and melting the required amount of adhesive material directly onto your printed image.
Specifications:
| | |
| --- | --- |
| Maximum Media Width | 23.6" |
| Functions | Shake powder control, dusting control, and curing temperature PID setting |
| Heating Element | Quartz infrared heat drying tube |
| Rewinding Function | Automatic induction rewinding |
| Heating and Drying Mode | Front guide plate heating, upper drying curing |
| Cooling Mode | 9 fun air cooling (2 raw) |
| Machine Size | 76.9in x 39.5in x 43in |
| Power Shaker and Dryer Weight | 528lbs |
| Packaging Size | 70.5in x 44.1in x 44.5in |
| Packaging Weight | 638lbs |
| Power Supply | AC110V, 50hz / 60hz, 1 phase |
Applicable Industries:
All Color T-Shirt
Sweater / Hoodie
Jersey
Canvas Bag / Cushion
Jeans / Denim Cloth
Leather
Shoes
Pants / Trousers
Cap / Mask
Compatible With
---------------------------------------------
Purifier S
The Purifier S is a mid-range air purifier, perfect for use with your direct-to-film printer and shaker/oven setup. Use the easily turnable knob to control the vacuum speed of the purifier to suit your specific needs. Remove smoke, dust, and harmful gases through the over 6 foot long exhaust hose! With the Purifier S, your air quality is in safe hands.


Features
Mid-range purifier
Easily control vacuum speed by turning the knob
HEPA and Carbon filters
6 foot long hose
Benefits

Remove air pollutants created during the direct to film process
Ensure safe working environment
Compatible With
DTF Station Prestige L2 DTF Printer
DTF Station Prestige XL2 DTF Printer