Epson SureColor F2100? What's the Difference?
Pre-Order Price: $15,995 after $1,000 instant rebate and $1,000 discount from us (ends on 2/28/2018). It includes FREE shipping and on-site training at your location.

Faster Speed: 30% faster than F2000. White shirts can be printed in 30~50 seconds, Dark shirts can be printed under 2 minutes.

Epson F2100 Dark Garment Speed

Epson F2000 Dark Garment Speed
Height Adjustment: Height can be adjusted in more precision so that you can print on uneven surface better and easier.

White Ink Filtration: Epson F2100 is equipped with an additional white ink filtration to improve ink flow and prevent any white ink clog.

Simplified Maintenance: Epson F2100 eliminated easy daily maintenance from the previous model. Now it's as simple as turn on/off.

White Highlight: simultaneous printing of White and color inks on the color pass for greatly improved image quality, speed, and efficiency. Great feature if you are working with thicker garments and 50/50 blends
To Learn More Visit Our Epson F2100 Page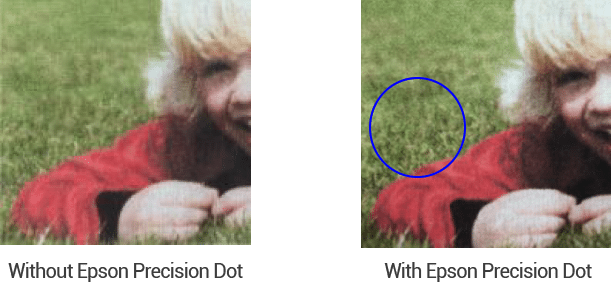 Why would you purchase Epson F2000 instead of the new model?
Very aggresively priced compared to other direct to garment printers out there. Price includes inks, cleaning supplies, shipping, onsite training and one-year full warranty.

Good starter DTG if you are newly getting into DTG as similar features are available at lower price point.

Ink cartridges are compatible throuout Epson DTG models, which allows much easier transition for upgraders as there is no ink inventory risk from the transition.
What To Ask Before Purchasing DTG.
It's very important that the printer is fast and convenient. However there are more things to consider when you choose the right DTG printer.
1. Image Quality
Compare samples before making a decision. With recent exponential growth of of DTG market, image quality is the key to win competitions among competitors in the industry. Epson is known for high resolution image quality and we are more than happy to provide you a free sample. Send us your own design files to check out the image quality in person.
2. Support
Fast & Reliable Response: Sales reps must be knowledgeable and trustworthy. Often times after the sale, sales reps tend to respond late or tend to provide a number for tech support just to avoid any technical questions or after-sale service. This creates huge conflicts and gives very unpleasant experience. We assign you a dedicated sales rep with one back-up contact to provide 7 days a week point of contact for any emergency questions. We strongly believe in [customer growth = our growth] equation and we want to make sure we provide you the best support possible.

On-Site Training vs. Off-site Training: Getting a training at your location is crucial as work environment brings lots of variables that effect the image quality. In-house training or online training via screen-sharing or video conversation cannot provide enough feedbacks or recommendations of the work environment. We proudly offer full on-site training. No matter where you are, we will do the training at your location to prevent any possible environment related issues.

Dedicated support: Having someone knowledgeable that you can depend on to answer your questions is very important as DTG can be complex if you are new to the industry. Our sales reps will be responsible for your training and after sale services for all technical questions.
3. Warranty
What happens your machine is down? Do you have to ship your printer back for service? Most DTG manufacturers provide tech support over the phone only. They send you parts and manual and expect you to replace the parts. You have to be ready.
With us, you will call your dedicated rep for help. If your dedicated rep cannot resolve your issue over the phone, Epson technician will visit your location within 24~48 hours for any repairs within the warranty period. Labor service and parts are 100% free of charge. Warranty can be extended up to 3 years. Be sure to extend the warranty before the current one expires.
Why you should buy from All American Print Supply Co.
As the top U.S. authorized retailer of Epson products, All American offers competitive pricing for all your printing needs. Our team takes pride in the knowledge we carry across all spectrums. Not only are we well-versed on the technical specifications of all our equipment, our tam holds practical, hands-on knowledge through our collective experience in the printing industry. When purchasing printing equipment with All American, you can expect:
FREE TRAINING
Receive free training (included with your printer purchase)
FREE SHIPPING
We ship the printer for free within the contiguous U.S.
FREE TECH SUPPORT
Get answers to your questions from our top-tier expert technicians.
ONGOING SUPPORT
Direct access to our sales technicians through phone, text and email, and our exclusive Slack Channel, where our representatives are readily available to respond to your questions.
TOP TIER HELP
Receive unbiased advice on which printer suits best for your specific needs.