Which is Right for Your Business?
There's been a lot of anticipation surrounding the release of Epson's newest DTG printer, the F3070. Many customers have been asking which Epson DTG printer is right for them and their business. Both the Epson F2100 and F3070 produce high-quality prints and offer great warranty coverages. Understanding what each piece of equipment offers may provide some clarity into which piece of equipment is most ideal for your business model.
Below, we review the primary differences between the F2100 and the F3070 so you have all the information you need!
Epson SureColor F2100
The #1 Sold DTG Machine in North America!
Customers love how user-friendly the F2100 is. With just a basic understanding of the printer's functions and features, users can take full advantage of the F2100's capabilities.
The F2100 utilizes a fabric wiper and a built-in ink cartridge system and thus requires no daily maintenance. At the start of each day, operators just simply press the power button to power up their printer and can be ready to print within a few minutes. At the end of the day, pressing the power button will turn off the machine for the night. A one-minute weekly maintenance routine to maintain a clean capping system will keep your F2100 operating optimally.
Along with minimal maintenance, the F2100 has an improved Dry-Cap system. The dry-cap system is not only more reliable than a wet-cap system, but it also eliminates any air interfering with the printhead. The dry-cap system prevents the ink from drying up and also reduces any potential damage to the printhead.
As you may already know, a wet-cap system allows the printer to remain idle for up to a month. Depending on your sales volume, this may not even be a benefit. If your DTG printer is meant to generate profits, it isn't in your business's best interest to shut down your DTG printer for extended periods of time.
Ink
Epson F2100 uses an industrial-size ink cartridge system (600ml), which means less time spent replacing empty ink cartridges. Epson has invested in developing a new filtration system within each ink cartridge that eliminates the problems caused by bulk ink cartridge systems used by other dtg printers in this class. Epson's filtration system prevents any debris from entering your printer and its lines that can cause clogging. Any interruption by debris can lead to unnecessary downtime that your printer will need to undergo repair and additional costs to replace expensive print heads.
Additionally, Epson offers customers with 5+ Epson F2100 printers bid pricing on their ink cartridges amounting to a significant discount in the cost for your operation.
If you're looking for productivity (and we know you are), the Epson F2100 has you covered. As one of the fastest DTG machines in its class and price point, it is definitely a must-have. Print speeds will vary depending on the six quality settings you can select from within Garment Creator or Kothari Print Pro RIP Software. For instance, if you have a simple design and want to print a high volume, "Level 1 (Speed)" will allow you to print on a white t-shirt in 15 seconds or a black t-shirt in 50 seconds.
However, keep in mind, print speeds should not be your only consideration when it comes to production output per hour. You should also take into account the time it takes to properly pretreat your garment and cure it with the proper heat press settings. Whether or not you have pre-treated shirts ready to be printed on or have the heat press warm and ready to go can largely determine how many prints you can produce in an hour. A realistic expectation would be to print around 20-30 shirts per hour.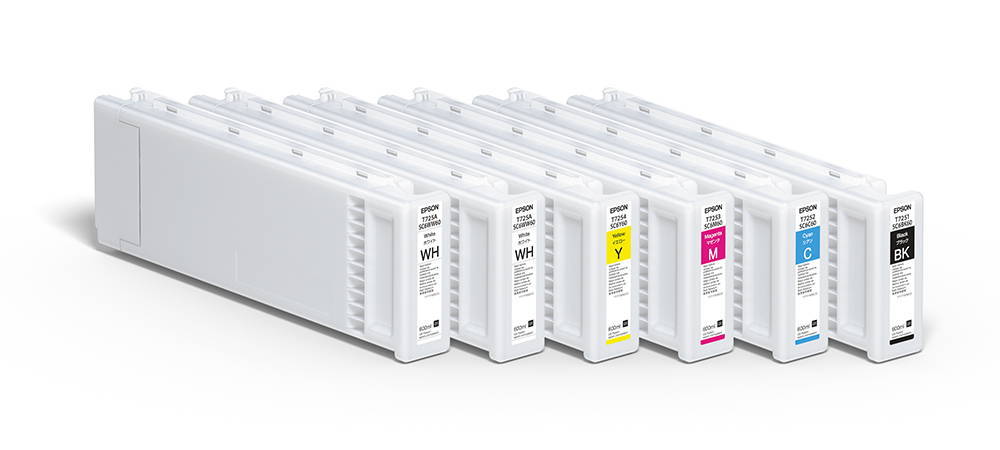 Epson F2100 UltraChrome DG Ink Cartridge (600ml)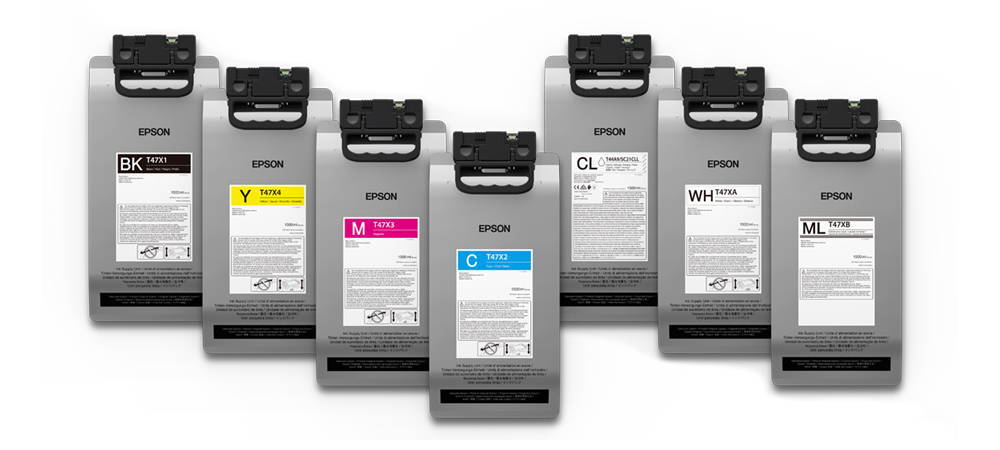 Epson F3070 UltraChrome DG Ink Cartridge (1.5L Bag)
Epson SureColor F3070
The Future: An Industrial Grade Garment Printer
With its printing capacity, you may wonder if the Epson F3070 will cause a significant increase in your electricity bill. There is no need to worry about increases in your utility bill as the F3070 is powered by standard, regularly available 120 V outlets. The printer is powered through two standard 120 volt systems: one for the printer and one for the ink system. One benefit of this industrial-grade printer is its portability. As long as the printer and ink system are connected to a power outlet, you can reorganize your workspace to your liking.
If you already have experience operating the F2100, the ease of the F3070 will surprise you. The F3070 has the capability to auto-detect the health of your nozzle and correct any issues it senses automatically. As it performs this auto-detection and correction, the F3070 continues to print without any interruptions or pauses.
Additionally, operators now have the ability to replace the printer's printhead on their own without any extra tools or the assistance of a technician. Operators can now simply pop the printhead out from its place and insert a new printhead when necessary. It's as easy as that!
The F3070 uses a 1.5 liter bag bulk ink system that combines the benefits of a bulk size and filtration system of its cartridge system. Previously we mentioned the downfalls of bulk ink systems and how it fails to limit contamination by dust and debris into the ink bottles, lines, and the print head. The F3070 is equipped with a filtration system to protect against debris from entering.
The 3070 and 2100 use the same ink so there's no need to be concerned about any difference in quality or color between the two printers. Each liter of ink for the F3070 is priced at an affordable rate of only $150.
The Epson F3070 is optimal for businesses that receive orders for garments with multiple, different designs. Operators that regularly receive high-volume orders of the same design should opt for a screen-printing setup over dtg.
There is a drastic and noticeable difference in the print speeds between the F3070 and the F2100. The F3070 has a dual printhead system which allows for single-pass printing. During this single-pass printing, the white and color inks are printed almost simultaneously. Other dtg printers will first spray the white underbase, then undergo a second round where the color is laid on top of the white underbase. The F3070 prints a full-colored shirt within one pass time and is ready to cure after its first pass through the dual printhead system.
As with all DTG printers, the mode settings that you assign will largely determine how quickly a print can be completed. In general, a white t-shirt print on the F3070 will take anywhere from 30 seconds to 73 seconds to complete. A black garment will take anywhere between 43 seconds to 112 seconds.
We want to stress that productivity should not be measured solely on print speed. The Epson F3070 comes with upgrades that minimize some of the downtime that may be experienced between prints. Some of these upgrades include speeding up of the data transmission time from the computer to the printer as well as an automatic platen height adjuster. Operators can print a t-shirt and a thick, hoodie back-to-back without having to manually adjust the platen height between prints. With its various sensors encased within, the F3070 moves the platen as close to the printheads as possible for the finest quality print automatically. Fulfilling multiple orders back-to-back has become that much easier!

Epson F3070 Print Speed vs Productivity
If you have a simple design and want high volume, "Level 1 (Speed)" will allow you to print a white t-shirt in 15 seconds or a black t-shirt in 50 seconds. If your print job requires a high resolution, full size custom artwork design, "Quality Setting" will print your white t-shirt in 102 seconds and black t-shirt in 165 seconds.
Epson has increased its full coverage, bumper-to-bumper, "no questions asked" warranty. Customers can now extend their warranty to secure coverage of up to five years. Epson provides 24 hours service and will have a technician out to your location within 24-48 hours.
Epson Support is available via chat, email, and phone.
Specifications
Epson F2100
Epson F3070

● High-Quality Direct-to-Garment Printing
● Up to Twice as Fast
● Highlight White Ink Mode
● Fast Loading for More Productivity
● Intuitive, Easy-to-Learn Workflow
● Designed Exclusively for Direct-to-Garment Printing
● Reduced Maintenance Time and Operational Cost
● Backed by Industry-Leading Support

● Dual PrecisionCore Printheads
● Replaceable Bulk Ink Packs
● Automatic Garment Thickness Detection
● Epson UltraChrome® DG Inks
● Low Maintenance Downtime
● Easy-to-Use, All-New Quick-Load Platen
● Epson Pretreatment Solutions
● Updated Garment Creator Software
● Scale Production Capability with Additional Printers
● Optimize Workflow Efficiency with the Integrated Print Stand

● Printing Technology:
PrecisionCore TFP 10-channel, Drop-on-Demand,
Inkjet Printhead with Ink-Repelling Coating Technology
● Maximum Print Resolution:
Up to 1440 × 1440 dpi for White Ink
Up to 1440 × 720 dpi for Color Ink
● Nozzle Configuration:
360 Nozzles x 10; 6 Ink Cartridge Bays; 1 Cleaning Cartridge Bay

● Printing Technology:
Dual Advanced PrecisionCore microTFP 10-Channel, Drop-on-Demand,
Inkjet Printhead with Ink-Repelling Coating Technology
● Minimum Ink Droplet Size: Variable Droplet Technology
● Maximum Print Resolution: 1200 x 1200 dpi
● Nozzle Configuration:
360 Nozzles x 10; 6 Ink Cartridge Bays; 1 Cleaning Cartridge Bay

● Ink Type: UltraChrome DG Ink; 5-color
● Ink Configuration: C, M, Y, K, WH, WH
● Replacement Ink:
- Magenta Cartridge (600 ml): T725300
- Black Cartridge (600 ml): T725100
- Cyan Cartridge (600 ml): T725200
- Yellow Cartridge (600 ml): T725400
- White Cartridge (600 ml): T725A00

● Ink Type: UltraChrome DG
● Ink Palette: C, M, Y, K, WH
● Ink Configuration: 5-Color: C, M, Y, K, WH

● Operating Systems:
Windows 10 and 8.1, Windows Vista®
macOS 10.13 – Mac® OS X ® 10.6
● Humidity:
Operating: 20 – 80% (No Condensation)
● Operating Temperature:
50 ˚ to 95 ˚F (10 ˚ to 35 ˚C)
● Sound Level:
Less than 41 dB(A) According to ISO 7779
● Dimensions:
39″ x 59″ x 20″ (985 x 1,485 x 490 mm) (W x D x H)
● Weight: 183 lb (83 kg)
● Eco Features:
RoHS Compliant, Recyclable Product 3, Epson America, Inc. is a SmartWay®
Transport Partner, Epson UltraChrome DG Ink is Certified by ECO PASSPORT
by OEKO-TEX®, Meaning It's Safe for Adults, Children and Babies
● Safety Approvals:
UL (MET), FCC (Class A), CSA, CE, EMC
● Country of Origin: China

● Operating Systems:
Windows® 10 and 8.1, macOS 10.12(Sierra) or Later
● System Requirements:
Garment Creator Software Minimum PC Requirements:
Multicore Processor, 2GB RAM, 32GB Free Storage
Recommended PC Specifications:
Intel Core i7 8th Generation Processor, 16GB RAM, 32GB Free SSD Storage
● Temperature:
Operating: 59° to 95°F (15° to 35°C)
Operating (Recommended): 59° to 77°F (15° to 25°C)
● Humidity:
Operating: 20 – 80% (No Condensation)
Operating (Recommended): 40 – 60% (No Condensation)
● Eco Features:
Oeko-Tex ECOPASSPORT certified RoHS Compliant Recyclable Product
Epson America, Inc. is a SmartWay® Transport Partner
● Country of Origin: Indonesia

Replacement Head Cap, Air Filter, Ink, Warranty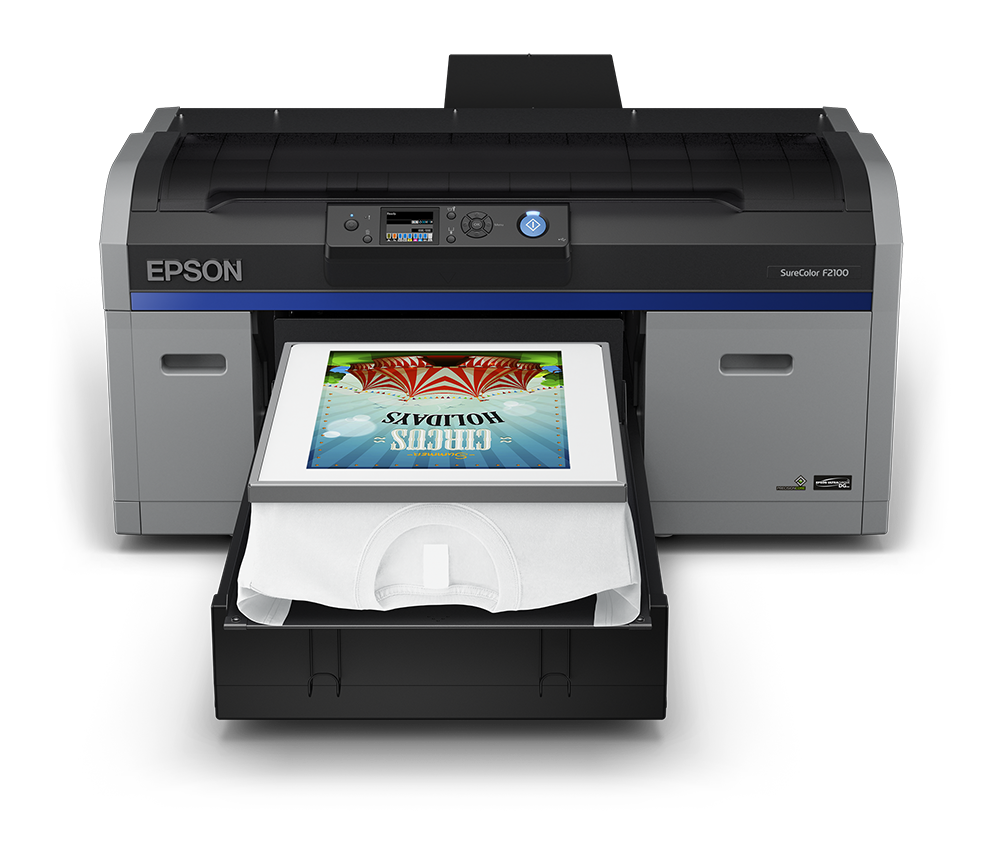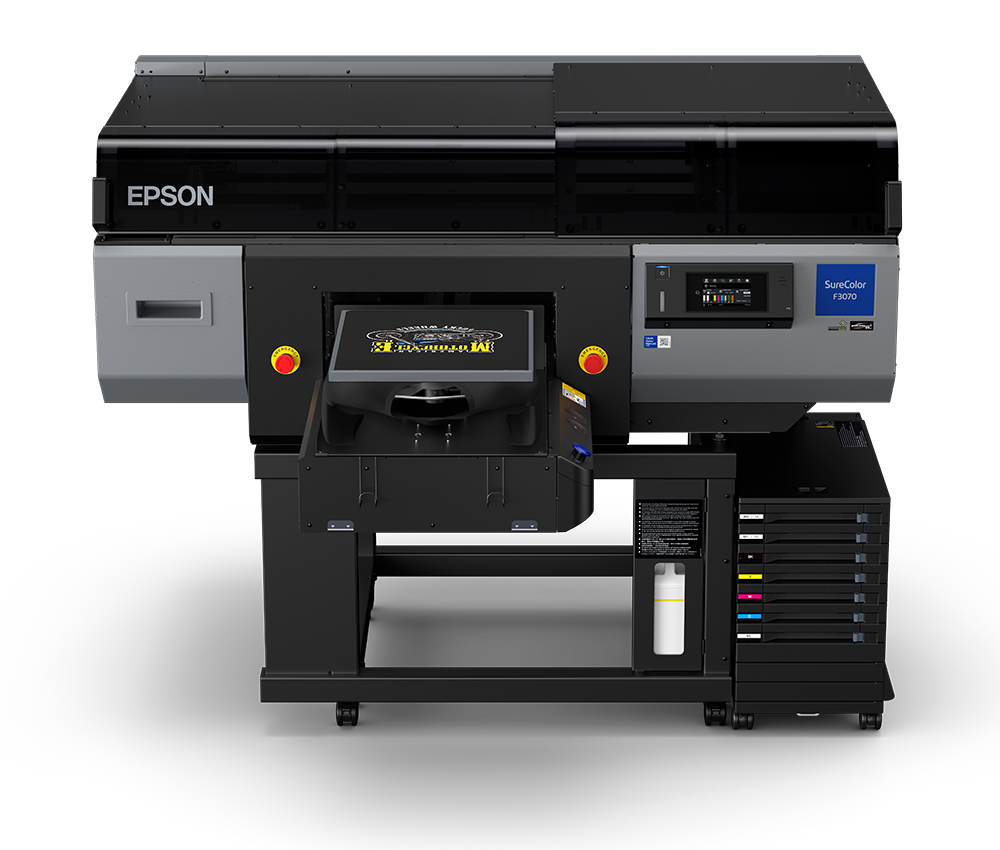 Why you should buy from All American Print Supply Co.
As the top U.S. authorized retailer of Epson products, All American offers competitive pricing for all your printing needs. Our team takes pride in the knowledge we carry across all spectrums. Not only are we well-versed on the technical specifications of all our equipment, our tam holds practical, hands-on knowledge through our collective experience in the printing industry. When purchasing printing equipment with All American, you can expect:
FREE SHIPPING
We ship the printer for free within the contiguous U.S.
FREE TECH SUPPORT
Get answers to your questions from our top-tier expert technicians.
ONGOING SUPPORT
Direct access to our sales technicians through phone, text and email, where our representatives are readily available to respond to your questions.
TOP TIER HELP
Receive unbiased advice on which printer suits best for your specific needs.